Strategic cooperation between ITL Corporation and Vietnam Post to develop cross-borders e-commerce
On April 19th, 2017, in Hanoi, Indo Trans Logistics Corporation (ITL Corporation) has signed a strategic cooperation agreement with Vietnam Post (BDVN - Vietnam Post - VNPost) for the development of cross- border e-commerce services. The announcement of the cooperation is considered to be the first critical milestone in the two organizations' investment and ambitious focus on developing the fast-growing e-commerce market in Vietnam and beyond. With this joint venture, both parties aim to develop Vietnam into the center of cross-border e-commerce trade in the region.
The results of the 2016 survey regarding import-export enterprises in Vietnam by the Department of Electronic Commerce (eCommerce) and Information Technology have shown that: 32% of enterprises have set up business relations with foreign partners through online channels, 11% of enterprises participate in the international e-marketplace and 49% of enterprises have an existing online presence. Through these online channels, companies can both effectively sell and market products as well as manage deliveries direct to the consumer while reducing the intermediary stages of traditional retail sales. With the impact of the technological revolution (CMCN) 4.0, geographical border in global trade transactions being removed, cross-border e-commerce (CBE) accounts for 21% of total global e-commerce revenues. Equally, the year 2017 is expected to be a breakthrough year for cross-border e-commerce in Vietnam. However, barriers such as logistics costs, customs procedures and legislation remain significant challenges for Vietnamese enterprises participating in cross-borders e-commerce today.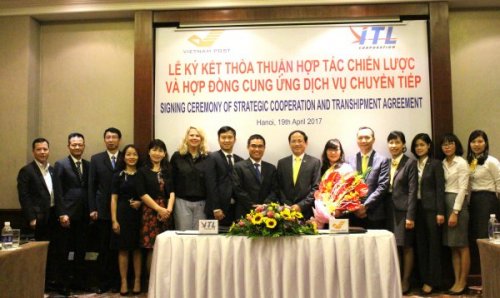 ITL, a leader in the Vietnam logistics market, having successfully achieved recognition as Top 50 Business Best (Top 50 Vietnam The Best) and 17 consecutive years in the Top 500 largest enterprises in Vietnam combined with its growing Southeast Asia regional presence is well positioned in the market. ITL has continued to make significant investments in e-commerce (e-commerce logistics) since 2015. With distinct advantages as the long-term leader in aviation services in Vietnam (ITL Corp accounts for 17% of international market share in air freight), ITL Corp will support VNPost in further developing and maximizing domestic and international postal services. In addition, ITL Corp is considered as the leading 3PL company in Vietnam, providing comprehensive logistics services including customs procedures and tax declaration. As such, ITL Corp is well positioned to assist enterprises to break down the procedural barriers when engaging in this new trade.
Meanwhile, Vietnam Post is number one in the field of post and telecommunications with its delivery network covering all 63 provinces and cities in Vietnam across 13,000 delivery routes and 700 post offices. VNPost has over 40 thousand employees and well-established standard operating procedures to effectively support its infrastructure. With this advantage, the joint venture between ITL Corp and VNPost will reduce unnecessary and unvalued steps for customers, thereby reducing transaction costs; optimizing opportunities between buyers and sellers and removing barriers and restrictions for growth.
The initial focus of the joint venture will be to launch a cross-border e-commerce cargo service between Vietnam and China operated by ITL Corp, to provide the fastest and most competitive solution in the market.
Commenting about the cooperation with ITL Corp. - Mr. Pham Anh Tuan - General Director of Vietnam Post, noted ITL's position in Vietnam in both aviation and road transportation services in addition to its international relationships around the world; and expressed his hope that this cooperation will be realized quickly and remove cost barriers to the future development of the market. Through the agreement with ITL Corp, both parties aim to leverage the competitive advantages of each other to invest effectively in service development and establish Vietnam as a transit hub for e-commerce cross-border trade in Asia.
Mr. Ben Anh - CEO of ITL Corp, said: "With the goal of turning Vietnam into a cross-border e-commerce center in the region, ITL Corp and VNpost will bring into play their own advantages to provide end-to-end logistics services for the growing e-commerce market. With VNPost's top post and telecommunication network and the strength of Vietnam's leading 3PL service from ITL Corp, especially in the aviation sector, this joint venture promises to contribute to the acceleration of the development of the cross-border e-commerce market. We believe that with Vietnam's strategic geographical position and the right direction of investment in the Vietnam logistics market and e-commerce trade across borders, Vietnamese enterprises stand ready to join the global value chain in this fast growing and dynamic industry."
________________________
ITL CORP'S INFORMATION
Established in 1999 with six founders, ITL Corp started the business to provide international and domestic freight forwarding services with an early focus on land and aviation services. After 17 years, Indo Trans Logistics Corporation has grown to become one of the leading logistics companies in the Vietnam market and has expanded its reach to cover the Indochina region including Cambodia/Laos/Thailand and Myanmar. ITL Corp is one of the leading 3PLs in the Indo-China region providing comprehensive logistics services including GSA and Aviation Services, Freight Management, Contract Logistics, Rail, Last Mile and E-commerce logistics. ITL Corp currently accounts for 17% of the international aviation market in Vietnam with annual cargo capacity of 60,000 - 75,000 tons. ITL Corp is honored to be on the Top 50 Vietnam, The Best Companies, and continues to be listed in Top 500 Biggest Enterprises annually.