ITL IS HONORED TO BE IN THE TOP 10 MOST REPUTABLE TRANSPORTATION AND LOGISTICS COMPANIES IN VIETNAM 2019
ITL is very proud to contribute its name in the
Top 10 Most Reputable Transportation and Logistics Companies in Vietnam 2019
under the category of Logistics, Warehousing and Delivery. ITL has been ranked 6
th
of the Ranking based on the results of analysis and independent data processing by Vietnam Assessment Report JSC (VietnamReport).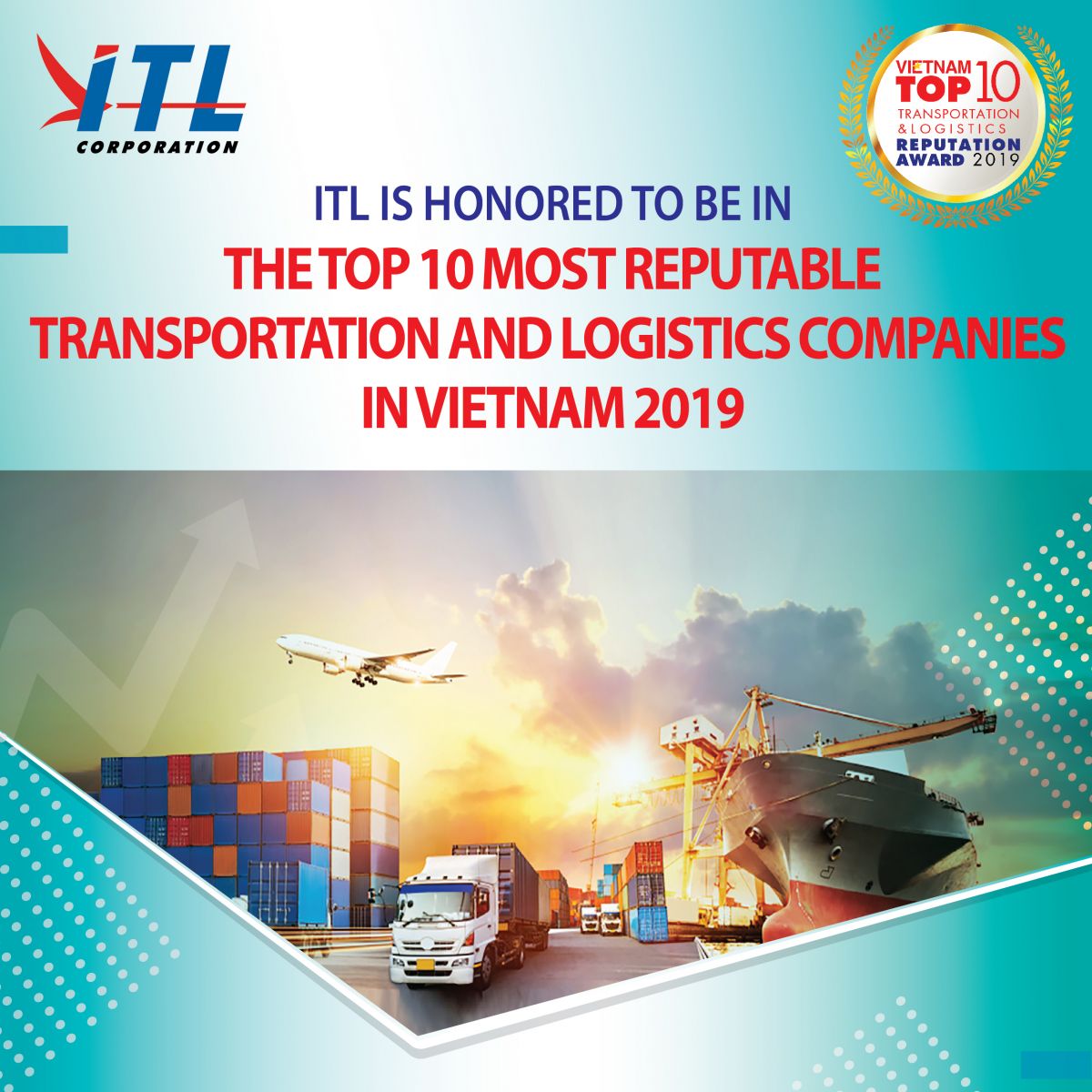 Especially, 2019 marks the 13
th
consecutive year that ITL contributes its name to the
"Top 500 Biggest Companies in Vietnam 2019"
and the "
Top 50 Best Companies in Vietnam 2019"
awards.
The ranking of
Top 10 Most Reputable Transportation and Logistics Companies in Vietnam 2019
includes three categories: Passenger Transportation, Freight Transportation and Logistics, Warehouse and Delivery…. The companies are assessed and ranked based on based on 3 main criteria:
Financial capacity, shown in the most recent financial statements (Total assets, total revenue, profit and capital use efficiency)
Media prestige, evaluated by Media Coding method - Encoding company articles on influential media channels;
Surveys of industry experts and Enterprise Surveys, Carried out in December 2019 on the size of capital, market, labor, revenue growth rate, profit and operational plan of the year 2020, etc
With these achievements, ITL strongly believes in our business direction with the goal of being a National Champion and moving forward to the goal of the North Star to conquer the journey to become a Billion USD ITL.
---
The ranking of Top 10 Most Reputable Transportation and Logistics Companies in Vietnam 2019, under the framework of Top Ten Vietnam, is the prestigious ranking published by VietnamReport annually since 2016. This is an in-depth study of key sectors such as real estate, construction, insurance, pharmaceuticals, technology, food-beverage, retail, travel and logistics. Companies are assessed and ranked based on three main criteria including financial capacity shown in the latest financial statements; media reputation which is assessed by media coding method and survey on consumers, experts and enterprises.

The official awarding ceremony of Top 10 Most Reputable Transportation and Logistics Companies in Vietnam 2019 and Top 500 Biggest Companies in Vietnam 2019; Top 50 Best Companies in Vietnam 2019 will be held on January 9th , 2020, at InterContinental Hanoi Landmark72 Hotel, Hanoi city.

*Please click the below links for the articles about the award:

vietnamcredit.com.vn: https://vietnamcredit.com.vn/news/top-10-logistics-companies-in-vietnam_13628

vietnamreport.net.vn : http://vietnamreport.net.vn/Cong-bo-Top-10-Cong-ty-Van-tai-va-Logistics-uy-tin-nam-2019-8956-1006.html

Baodautu.vn: https://baodautu.vn/cong-bo-top-10-cong-ty-van-tai-va-logistics-uy-tin-2019-d113436.html

Dantri.com.vn: https://dantri.com.vn/kinh-doanh/thi-truong-10-ty-usd-va-loat-thuong-vu-khung-sau-nhung-cu-click-chuot-mua-sam-online-20191224051639058.htm

Cafef.vn: http://cafef.vn/nam-2020-day-la-linh-vuc-duoc-du-doan-se-khuay-dong-thi-truong-ma-voi-cac-thuong-vu-bac-ty-20191224101624154.chn

vnr.vn: http://vlr.vn/van-tai/ai-la-ong-lon-viet-lam-chu-thi-truong-van-tai-va-logistics-5574.vlr