Vietnam Set To Welcome FDI Inflows Moving Away From China
Investors are determined to move away from Chinese "factory" and this is a great opportunity for Vietnam.

Wistron, one of Apple's production partners said it would move 50% of its production capacity out of China within a year. The COVID-19 pandemic has shown a huge risk for investors following the strategy of "putting all eggs in one basket" and the Wistron's statement is a good example of this correction.

Hustling to move away from China
The Wistron case shows that the trend of moving away factories from China to other countries has continued growing with increasing scale since the US-China trade war broke out in 2018. Last year, an American Chamber of Commerce report said about one-third of American companies in China will cancel or discontinue investment in China. 40% of businesses say they will move a part or all of their production lines from China, expected to Southeast Asia or Mexico.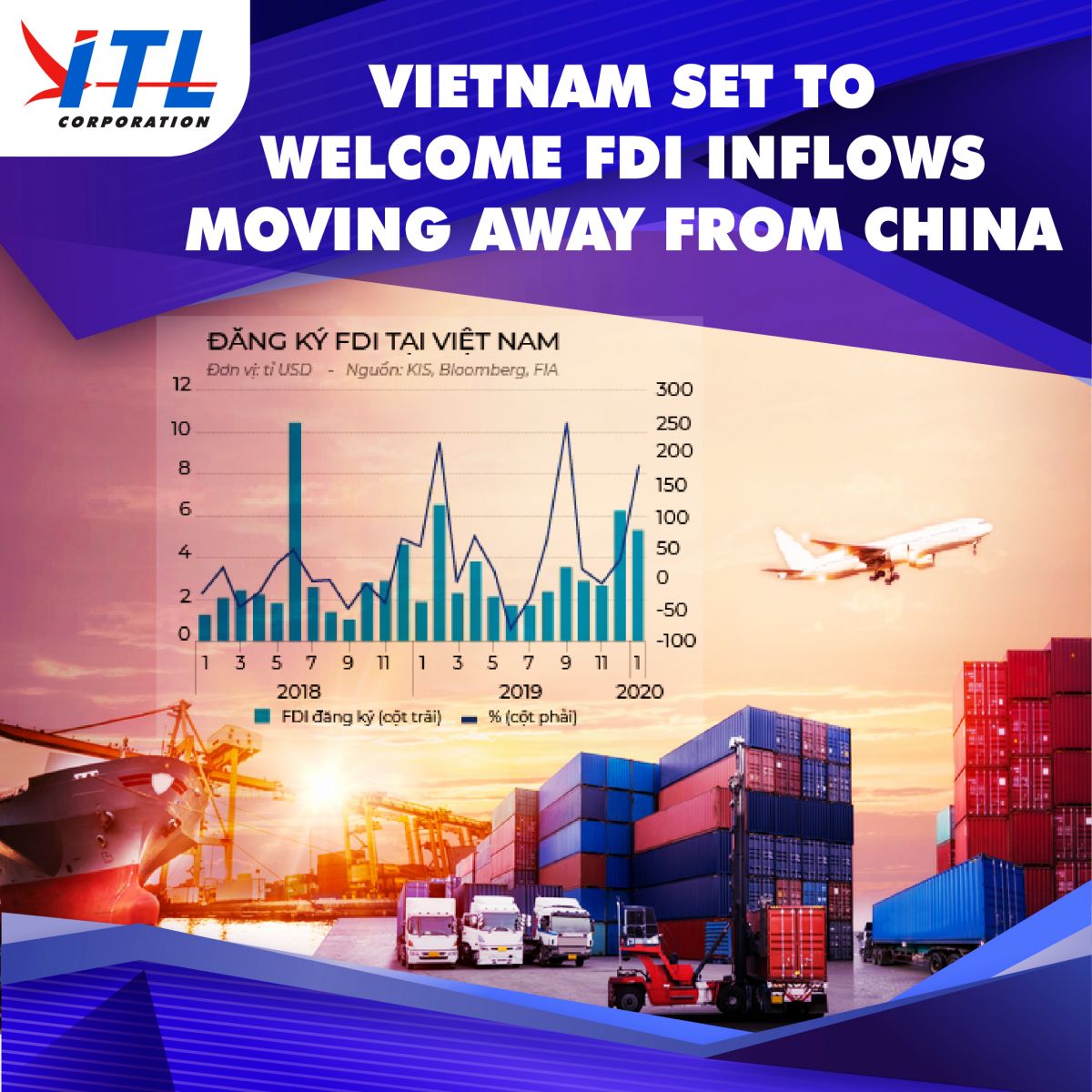 This trend is strongly increasing after the COVID-19 pandemic has paralysed the global supply chains, causing great damages to global businesses. Mr. Joerg Wuttke – President of EU Chamber of Commerce in China said that the pandemic has made many businesses be aware of the need to diversify their supply chains. "
Although the Chinese market has always been very attractive, people are now aware of the need for contingency plans
", Mr. Joerg Wuttke said.

The Japanese government has spent US $2.2 billion to support Japanese businesses to move away from China when the pandemic has broken the supply chain between the two countries. Earlier, the Japanese government also discussed how to bring the production of high value-added products back to Japan while moving the production of other goods to Southeast Asia countries. A survey of the American Chamber of Commerce in China and the American Chamber of Commerce in Shanghai in March also showed that more than 25% of US businesses began to make plans to import material supplies from other areas outside China in the COVID-19 post- pandemic. Only 16% of companies plans to move a part or all of their production out of China.

A research report published by the FED San Francisco in early April said the consequences of the pandemic had positive impact to Vietnam. The salary in some countries tends to increase after the pandemic, this will encourage production companies to move away their factories from China to Vietnam and Southeast Asia instead of to the United States.
Why is Vietnam?
Mr. Takeo Nakajima, Chief Representative of JETRO in Hanoi said: "Vietnam is on top of the list, with 42.3% of the 122 businesses mentioned above has chosen and following Vietnam is Thailand (20.6%), Philippines (18.6%) and Indonesia (16.5%)" and "Japanese businesses are moving away from China not only because of trade war, but also to evade the increasing input costs in this market."

The COVID-19 pandemic can also give Vietnam more opportunities to welcome more new FDI projects because being afraid of the pandemic will motivate investors to consider to move away capital and FDI projects from China. Although Vietnam has been assessed as one of the most vulnerable countries and suffering risks from the impact of COVID-19 pandemic, the international community highly appreciates Vietnam's action and effectiveness in preventing and controlling the pandemic. "However, this positive impact will mainly happen in the medium term. In general, FDI attraction in 2020 can still increase (about 5%), lower than in 2019 about 2.2 per cent." Dr. Can Van Luc said.

Meanwhile, in the long term, according to analysis of KB Securities Vietnam Joint Stock Company (KBSV), Vietnam will still maintain FDI attraction thanks to its abundant labor force, low cost, and stable macroeconomy and the quality of the business environment that has been increasingly improved. The operation cost in Vietnam compared to other ASEAN countries is more attractive. On the contrary, to the profits, parent companies also want to receive dollars so foreign investors concern about the exchange rate risks, especially in the environment that USD is increasing strongly as today, emerging money is classified as a devaluation risk.

In addition, Vietnam has been successful for many years in negotiating and signing many free trade agreements (FTAs) with other countries and regions. This is a huge condition for businesses established in Vietnam to conduct international trade activities.

Source: nhipcaudautu.vn