30 Million Medical Face Masks Have Been Transported To North America By ITL Corporation
The two air cargo Charters, have been handled by ITL Air Charter Service of ITL Aviation under ITL Corporation, carrying 30 million medical face masks from Noi Bai International Airport (Hanoi) to North America
- the hottest spot in the world today during the Covid-19 pandemic.
Specifically, the first air cargo Charter carrying 15 million medical face masks took off from Hanoi on June 3
rd
, 2020 and transited in Hong Kong before arriving in North America. The second air cargo Charter carrying 15 million medical face masks departed from Hanoi to North America in the early morning of June 6
th
, 2020.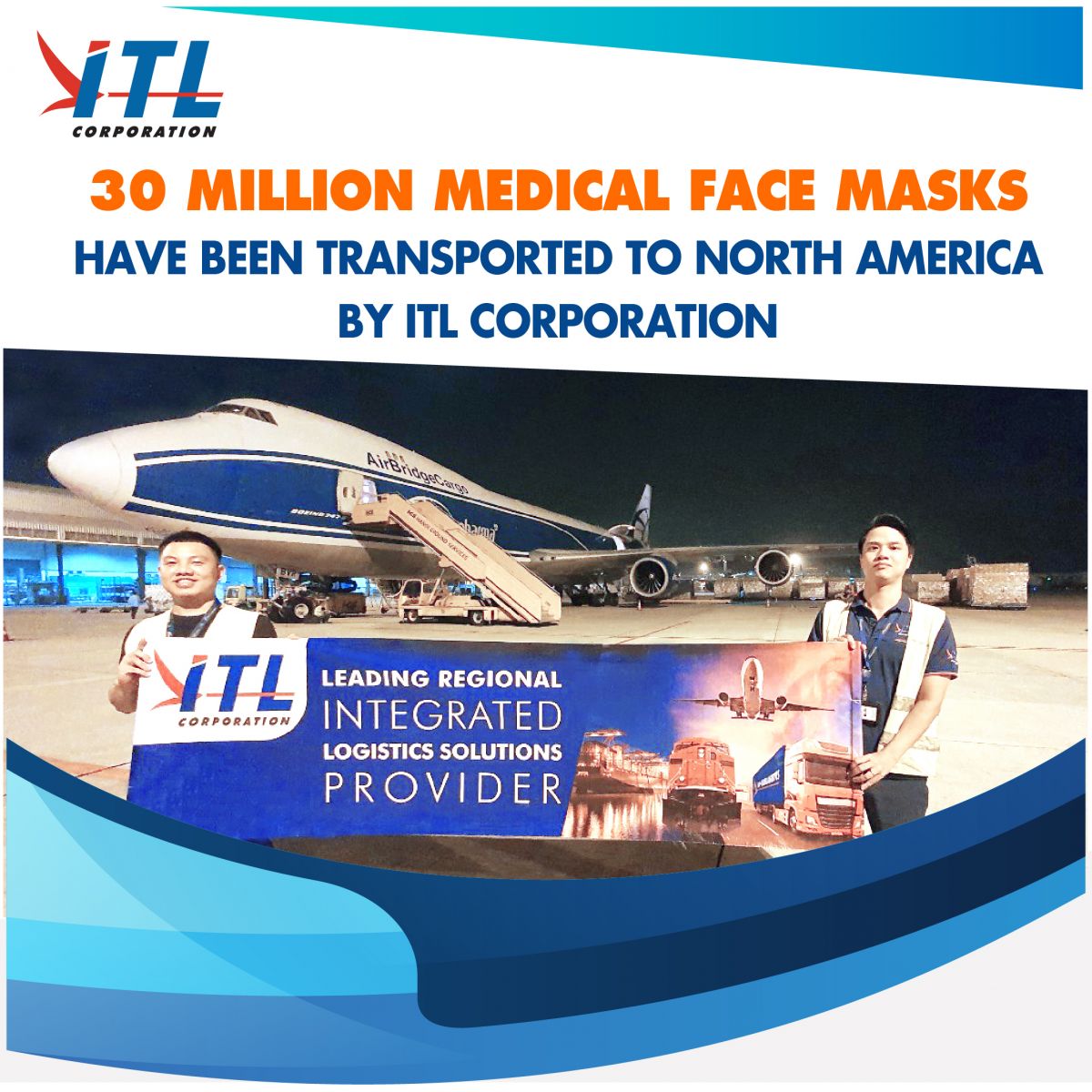 Earlier, in May 2020, ITL also transported
1.5 million Personal Protective Equipment
to New York (USA) by the air cargo Charters to serve people and frontline medical workers who are working against the Covid-19 pandemic here.
To meet the large volume of cargos, the requirement of urgent transportation time and the needs of medical face masks of people and frontline medical workers in North America, ITL Aviation under ITL Corporation has cooperated with AirBridge Cargo Airlines using the two largest cargo aircrafts in the world currently is 747-800 F to carry nearly 12,000 cargo boxes, equivalent to 220 tons in gross weight and 1250 cbm in volume weight.
This also has shown the variety of air freight solutions that ITL can offer to our customers, from the Charter by passenger to cargo with 200 cbm/trip in volume weight to the air cargo Charter with the volume weight up to 600 -700 cbm/trip.
The potential for exporting essential goods in this period such as medical face masks and Personal Protective Equipment from Vietnam is considered to be huge as the demand of North America countries continues increasing. According to a source from a large medical face mask manufacturer in Vietnam, the US government is in need of 3 billion standard face masks and the US government's employees have come to Vietnam to be satisfied with the needs of medical face maks. ITL Charter Service team, ITL Aviation and ITL Corporation are also making more efforts to serve our customers in the import/export of these items.
In the incoming time, ITL will continuously improve the quality of service, providing the best airfreight solutions to serve our customersin the context of higher demands of customers for airfreight services. ITL Aviation, with the competence of operation excellence, professionalism and strong Airlines partners in both size and position, we are confident to be able to bring breakthrough solutions to meet the needs of our customers and to conquer the difficult markets such as South America, Latin America and Africa in the near future.
- ITL Corporation -