ITL Is Honored To Accompany UNICEF Distributing 250,000 Bars Of Soap To Vietnamese Children In Need In Vietnam
In July 2020, DT Distribution team under ITL Corporation was honored to accompany the United Nations Children's Fund in Vietnam (UNICEF Vietnam) and major partners such as Colgate, DHL to transport 250,000 bars of soap to children in need in Ho Chi Minh City and 13 Mekong Delta provinces of Vietnam including: An Giang, Bac Lieu, Ben Tre, Ca Mau, Dong Thap, Hau Giang, Kien Giang, Long An, Soc Trang, Tien Giang, Tra Vinh, Vinh Long, and Can Tho.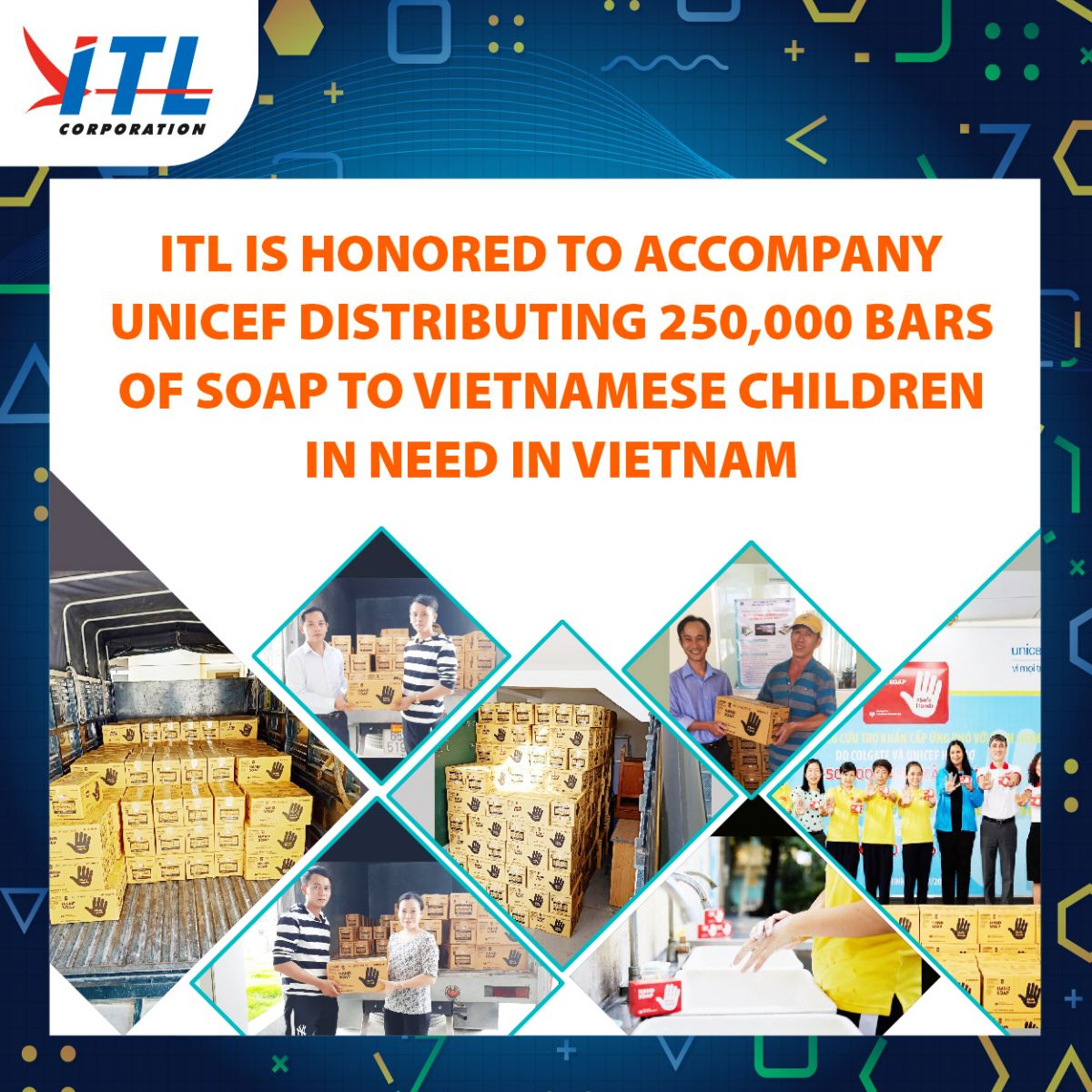 This is the community activity organized by UNICEF Vietnam and Colgate, DHL to prevent the spread of Covid-19 in Vietnam and ITL as Vietnam's leading distributor is honored to join hands to spread this meaningful activity to more than 1.5 million school children and those in social protection centers in Vietnam.
According to UNICEF Vietnam, the handwashing with soap is critical, not only to combat Covid-19, but to prevent a range of other infections. It is also essential in stopping the spread of intestinal worms - little creatures that enter a child's system robbing them of essential nutrients, affecting their health and curbing their capacity to learn. Despite the many reasons to wash regularly, this life-saving practice has not been practiced regularly in Vietnam.
"Proper handwashing is crucial to Vietnam's continued success in containing the spread of Covid-19. UNICEF is working with other stakeholders, including the private sector to ensure that thorough hand hygiene is accessible to all, especially to those in disadvantaged areas",
said Rana Flowers, UNICEF Representative in Viet Nam.
As a leading provider in integrated Logistics solutions in Vietnam and the region, in addition to our business activities, ITL also focuses on the community activities. Previously, ITL has cooperated with Tu Sach Nhan Ai organization to organize the journey of "
Green Seeds"
in primary schools in Vietnam to help the young generation to develop their reading habits, thereby increasing the reading culture and helping them access to the new knowledge, making their dreams to become true. This meaningful activity is one of the key targets of ITL CSR program aiming to join hands with the community to bring the brighter future for Vietnamese young generation.
Congratulations to UNICEF Vietnam and Colgate, DHL, ITL on this meaningful program. Wish the program more success to get more achievements to support for Vietnamese children.