ITL Is About To Launch VSIP 2 Warehouse - Enhancing The Capacity Of Providing Warehouse Services To Our Customers
The Contract Logistics team of ITL Corporation is preparing to launch and go-live VSIP 2 Warehouse (Thu Dau Mot city, Binh Dương province) in November 2020 to enhance the capacity and continue to provide the optimal cost and quality warehousing service solutions to our customers, as well as to prepare resources and seize opportunities to come back stronger after the COVID-19 crisis.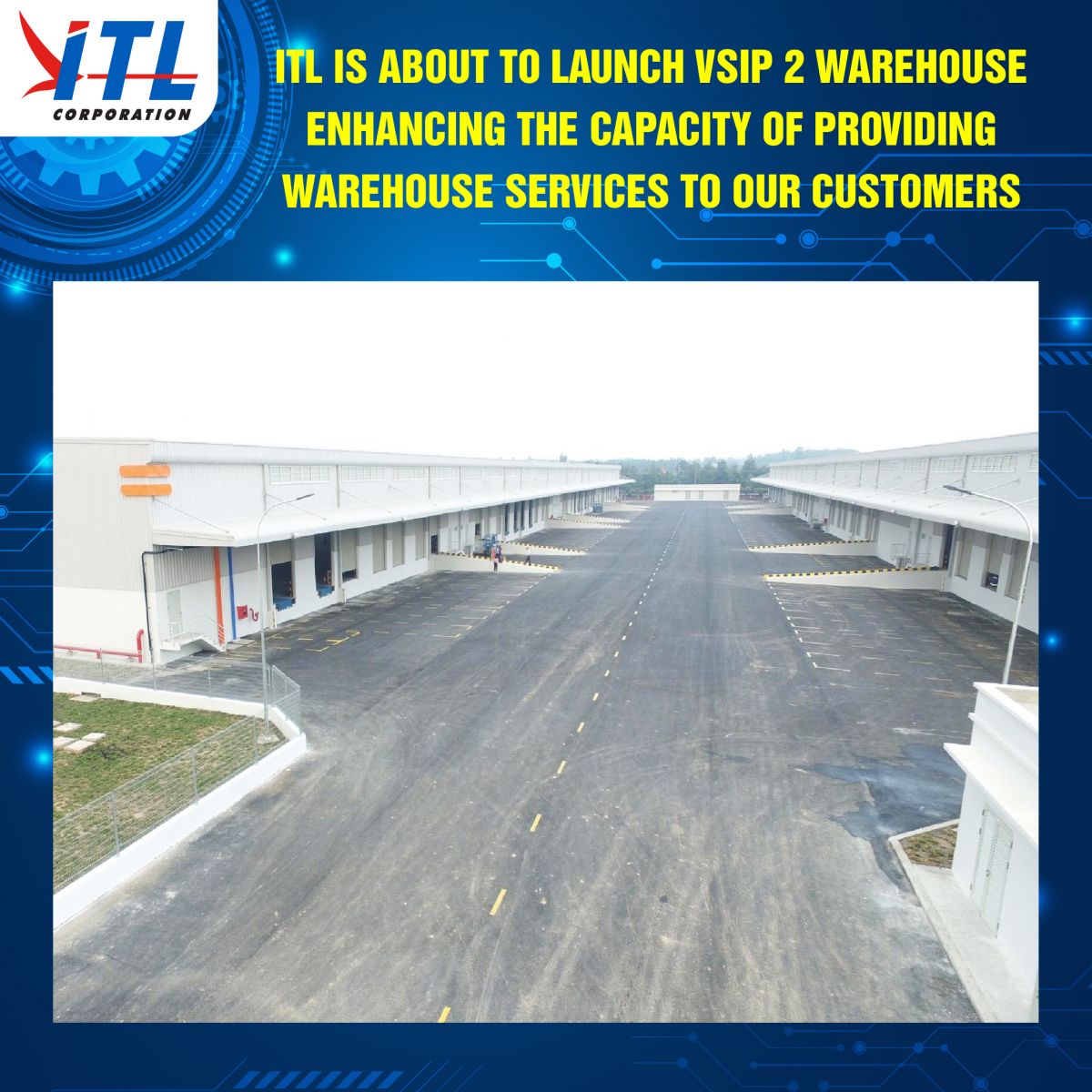 VSIP 2 Warehouse with a total area of ​​15,428 m
2
including Bonded Warehouse
(A total area of 5,000 m2
) and Distribution Warehouse - DC (
A total
a
rea of ​​10,428 m2
) will provide the integrated Logistics services to customers, supporting their development, including:
Inbound & outbound handling; inventory management with Warehouse Management System (WMS)
Customs Declaration via Ecus 4.0 bonded warehouse software integrated with customs system
VAS service such as: Split PO, PO management, pick & pack, labeling, consolidation, QC, etc.
Customs procedure and transportation
VSIP 2 Warehouse is located in a strategic area for cross-border Logistics activities. Our proximity is major industrial parks, ICDs, ports and key infrastructures connecting to HCMC and other provinces facilitates movement of goods and reducing cost in terms of time and money. In addition, VSIP 2 Warehouse will also contribute to reducing traffic congestion for Ho Chi Minh City and limiting the means of goods transportation moving to urban areas and key transportation infrastructure.

With complete infrastructure and investment in the modern equipment, VSIP 2 Warehouse will bring outstanding benefits to our customers and partners:
Highly operation experience with flexible and adaptive Warehouse Management System
High level of security: 24/7 CCTV System; Burglar alarm system; CTPAT compliance
Safety Storage: Automatic Fire Extinguisher System
Modern Dock-leveler System
Convenient Customs Clearance: Indoor Customs Station
Ensure right storage condition: Fixed humidity – Temperature warehouse (build – to – suit customer's demand)
Especially, VSIP 2 Warehouse will provide additionally advanced facilities for our customers with the Warehouse Management System: Real-time inventory information
Allows customer to place and track orders
KPI
Inbound
Outbound
Providing alerts
With the advantages of its strategic location, complete infrastructure, advanced technology platform and quality of Logistics services, VSIP 2 Warehouse will provide quality Bonded Warehouse and Distribution Warehouse solutions, meeting the needs of storage and distribution of goods for our customers, saving costs of lifting and lowering of storage and transporting for businesses, bringing values ​​and benefits for our customers.
Investing in VSIP2 Warehouse is also one of the key goals of ITL Corporation in this period: Continuing to invest and expand warehousing services and technology platforms, preparing resources and seizing opportunities for recovery after the COVID-19 crisis.
Contact ITL NOW for any your assistance!
---------
ITL - Indo Trans Logistics Corporation
Hotline: 028 3948 6888
Website:
http://bit.ly/itl-FBP
Linkedin:
http://bit.ly/itl-In-FBP
Địa chỉ: 52-54-56 Trường Sơn, phường 2, quận Tân Bình, TP.HCM