ITL Corporation Completed Handover Of 4 School Repair Works In The Central Of Vietnam
In early April of 2021, ITL Corporation completed the repair, inspection and handover of 4 school works heavily damaged by the historic floods in Quang Binh, Quang Tri, Quang Ngai and Gia Lai provinces to the local governments. This special activity aims to help the localities overcome the impacts caused by floods, promptly stabilizing teaching & learning activities and helping students be back to school to learn more knowledge for brighter futures.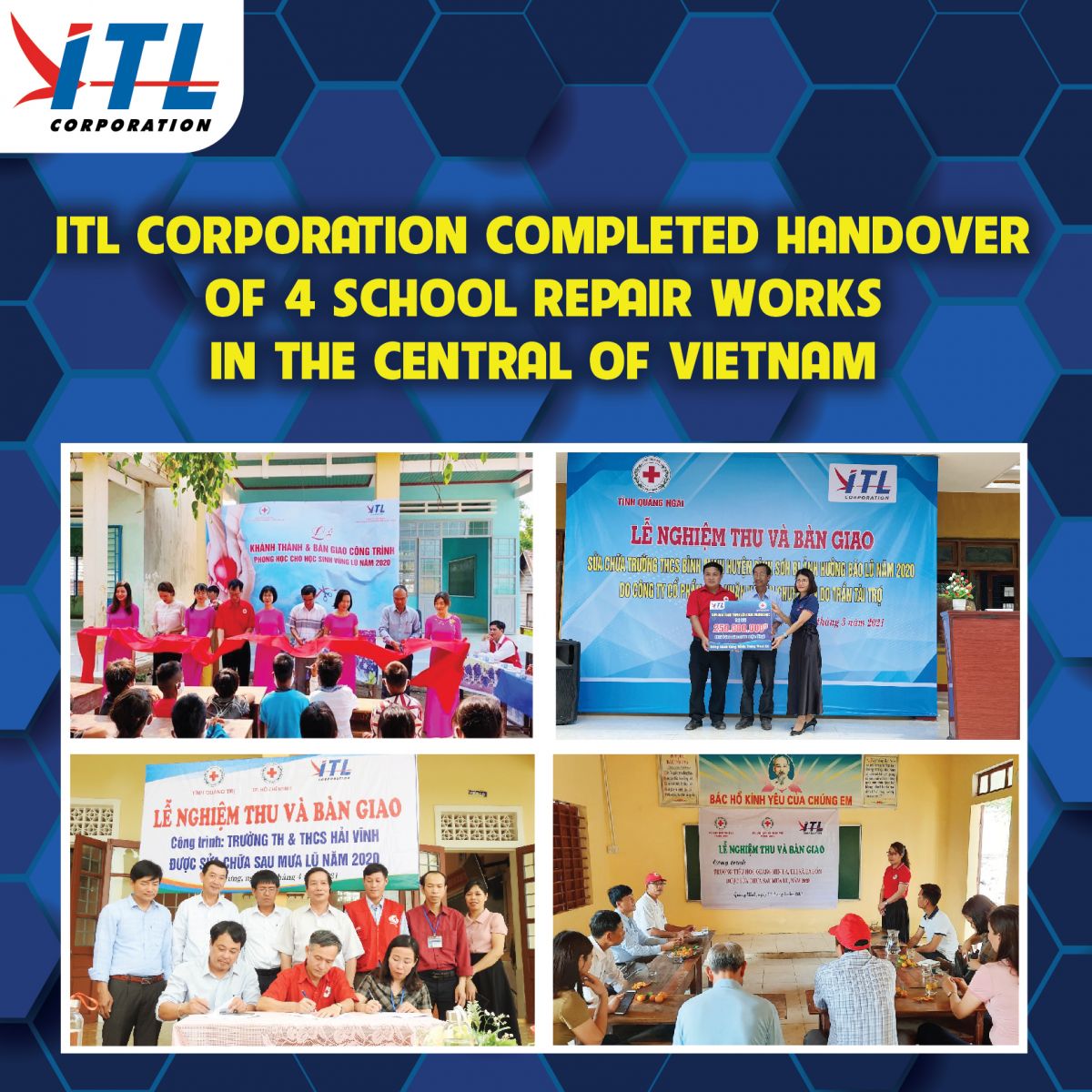 List of 4 schools supported by ITL Corporation with the total amount of 1,000,000,000 VND (1 billion VND), including:
Quang Minh A Primary School (Ba Don town, Quang Binh province)
Hai Vinh Primary and Junior High School (Hai Hung commune, Hai Lang district, Quang Tri province)
Binh Minh Junior High School (Binh Minh commune, Binh Son district, Quang Ngai province)
Nguyen Khuyen Ethnic Minority Semi-Boarding School, Junior High School (Veh village, Chu Krey commune, Kong Chro district, Gia Lai province)
ITL coordinated with Ho Chi Minh City Red Cross and the local Red Cross societies to survey and support the repair costs of 4 schools in the early December of 2020, these schools were completed and put into use in January of 2021.
During the repair period, ITL often accompanied Ho Chi Minh City Red Cross, the local Red Cross societies and the local governments to survey and inspect the school works to ensure the quality so teachers and students could be back to school as soon as possible.
This meaningful activity is under
ITL's CSR Program – Accompany The Central Of Vietnam To Cope With Floods
that was quickly and timely implemented by ITL in 2020 to help flood victims in the Central of Vietnam to cope with the historic floods with the strong supports of all ITL-ers.
Please take a look at the photos of this meaningful CSR activity here: