Managing Remote Staff: Essential Tips To Keep Your Team Productive
Modern developments in technology and lifestyles has enabled many employees from across a wide range of industries and functions to work remotely. Sometimes, such arrangements even come in necessary during times of crises when reporting to the office daily becomes impractical or impossible.
For those working remotely, there are ample articles and blogposts available on the Internet that come with advice on staying productive while working outside the office. Tips such as dressing up as if you're going to work or setting aside a distraction-free work area are just some of the basics that are intuitive to remaining productive.
However, what if you're someone managing a team or a project leader who now must keep tabs on colleagues working from different locations? How do you manage them in a way that keeps them productive and effective without coming across as distrustful and intrusive? Some managers with a tendency to micro-manage may feel justified calling up their employees once every two hours but is that helpful?
Here are some essential tips for those who need to manage team members who are working remotely:
1. Set Specific Weekly Targets and Goals
Clear objectives, goals, and deadlines are something your employees should have anyway, regardless of whether they are working remotely or not. What you may need to do slightly differently however, is to be slightly more detailed in the delegation of tasks. So, for example, instead of just putting Jenny, Hassan and Fred in charge of Project ABC, get each of them to report to you exactly what each of them would be doing for Project ABC for that week. You may offer suggestions and advice when you need to but remember that this is also an opportunity for your team members to manage themselves.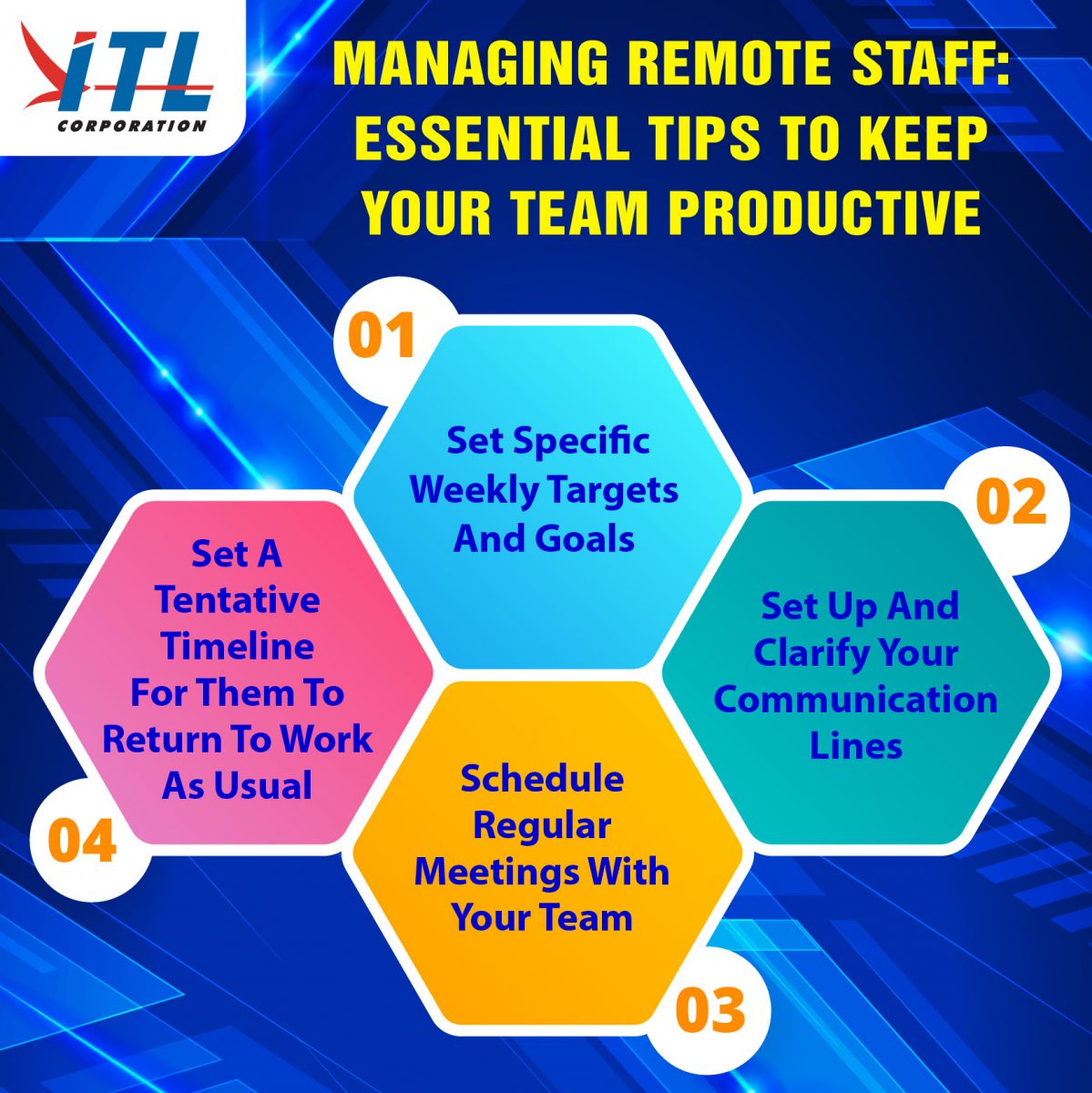 Once you've gained clarity on each of their duties, it will help you to keep track of their progress efficiently. If you know Jenny is working on budgeting and finance early on, you won't end up calling Fred midweek to ask him for updates on something he wasn't working on. You can refer PEP's WRAP To
ol
that is a great way for you to keep track of your team's tasks and timelines!
Be sure to remind your employees or team members of any critical deadlines that they or the team needs to meet.
2. Set Up and Clarify Your Communication Lines
Whether your team uses Zoom, Microsoft Teams, Zalo, WhatsApp or carrier pigeon, it is essential that you communicate your expectations with regards to your team's responsiveness for work messages.
Depending on the pace and type of work that you do, you may need your colleagues to be very responsive or not at all.
Whatever your expectations are, be sure to communicate them clearly.
So if you expect your Zalo or WhatsApp messages to be replied to within 20 minutes, make sure your team knows this. You may also need certain people to be call-ready at certain times or throughout office hours; notify them if this is the case.
Some managers may expect everyone working from home to be by their mobile phones all the time to standby for a call or require quick, snappy replies throughout the day; if you work in a time-sensitive environment, this may be justified. However, in most cases, this causes unnecessary anxiety and may impact their ability to focus on their respective tasks. You might also want to keep in mind that this may result in your employees or team members calling you anytime at all hours of the day.
For client-facing team members, you may also want to set your expectations about what they should handle or communicate to clients during this period, whether it's business as usual or not.
3. Schedule Regular Meetings with Your Team

Consider setting aside a specific day or time for everyone to meet regularly on a video conference call. As many of your team members should be included. These meetings don't have to be daily, but they must be regular enough that your colleagues still feel connected to the team and to their overall objectives. This is also your opportunity to update them on the overall progress of your projects or make any announcements that you need to.

You may need to schedule more regular meetings for specific groups or team members who are working on more important or time-sensitive projects. Some managers or team leaders may also go the extra mile and schedule one-on-one calls with specific members that may need more guidance, whether they are junior executives being mentored or staff members who are still adjusting to working remotely.

4. Set A Tentative Timeline for Them to Return to Work as Usual

When possible, be sure to inform your colleagues or team members when they can expect to return to the office as usual; this gives them something to look forward to. Of course, any specific dates might be tentative but even a rough estimate will go a long way towards dispelling the ambiguity that some of your team members might feel.

It will also allow your colleagues to plan their schedules on their end (such as making baby-sitting or caregiving arrangements) so as to minimize disruptions to both their lives and your work timelines.

By implementing the above measures, you will be able to effectively manage your team and minimize the disruption to your business, even without seeing them in the office every day. They are also applicable to your staff who work from home, overseas, or who are based offsite!

Nguồn: Angeline V Teo