[ITL PEOPLE] Ms. Janice Hien - Reservation and Customer Service, ANA team, ITL Aviation
"Nearly ten years with ITL Aviation has helped me grow a lot in mindset, in developing myself and acquiring a lot of knowledge and skills. From my first lessons in Aviation field until today, I really feel confident even when working independently and as a team."
What are you doing in ITL Aviation? What does your job mean to you?
Currently, I am a Reservation and Customer Service Officer for Cargo department of All Nippon Airways (ANA). I find meaning in my job, both economically and spiritually:
Economically
, this job brings a good income, enough for me to take good care of myself and my family. Of course, good and just enough standards are different from each person's view and expectations, but for me, I'm quite satisfied.
In addition, I also find meaning spiritually in my job.
It is said that: "
Rules for happiness: something to do, someone to love, something to hope for".
My current job makes me feel happy every day and happy when I take a look back at a long journey that I has spent.
This job gives me the opportunities to talk with customers, to have a good "teamwork" and close colleagues like friends. In addition, the friendly and professional working environment here helps me be positive every day.
Nearly ten years with ITL Aviation has helped me grow a lot in mindset, in developing myself and acquiring a lot of knowledge and skills. From my first lessons in Aviation field until today, I really feel confident even when working independently and as a team here.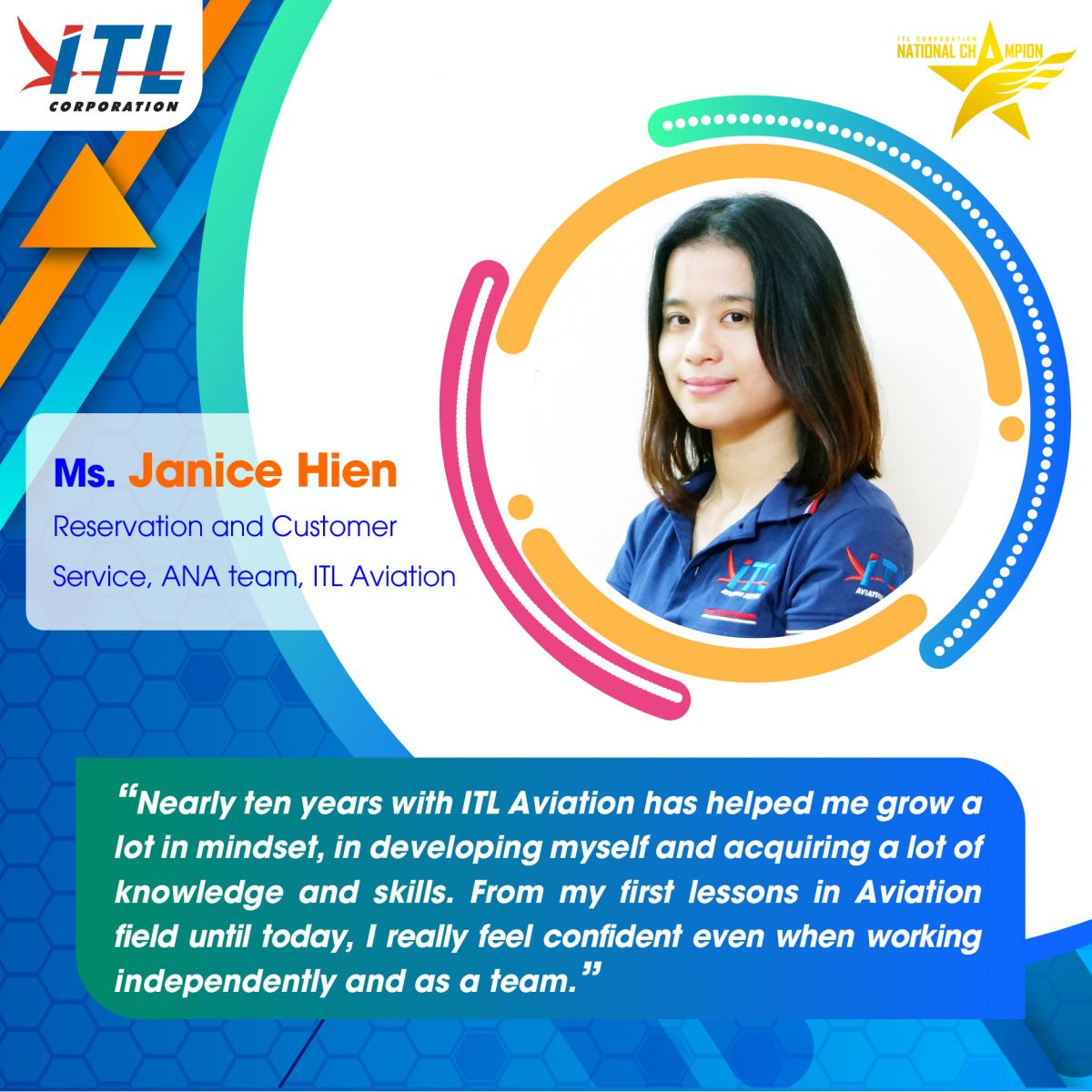 Can you please share more details about your work?
My daily work is to reserve cargo space, keep goods balance on daily flights and take care of customers in addition to supporting for sales team, as follows:
• Receiving customers' booking requests, finding reasonable loads to arrange flights from Hanoi to destinations following customers' demands; Taking care to ensure that the shipments arrive the final destinations as the confirmed schedule; Working with the transit airports and arrival airports or with customers if there is any problems with the goods (Lost, damaged or delayed delivery).
• Being responsible for balance of goods on daily flights following the policies and strategies approved by Cargo Manager.
• In addition, supporting sales team to work with customers to get new orders,...
What has made you to stay long with ITL Aviation?
The prerequisite thing for me to stay long with ITL Aviation is the professional and friendly working environment. The income is always important but not prerequisite because a company may give you a very high income but a toxic or negative working environment, I believe no one can stay long.

Nearly ten years working with ITL Aviation, I am very happy to work with my great colleagues. In work, we are professional and in life we are close friends, not only my colleagues in ANA team but all the teams in ITL Aviation Hanoi. I am very grateful to my colleagues because thanks to them, even though the work is sometimes stressful, I am always positive and happy every day.

How would you rate the working environment in ITL Aviation and the opportunities for career development here?
The things I have shared has shown my affection for ITL Aviation. For career development opportunities in ITL Aviation, I personally find as follow:
+ About promotion opportunities: GSA team has a very lean and efficient structure. Each team will have a Cargo Manager to manage the two teams: Sales & CS and Operation. The advantage of a lean structure makes it easy for the Manager to closely and properly assess the capacity of each member. If you really have outstanding ability and show a high sense of work, have prospects for development, then surely when the opportunities come, you will be facilitated for further development. Currently, the Logistics industry is developing very strongly and will be stronger in the future, so the opportunities will come at any time. Always believe: "Luck is what happen when preparation meets opportunity".

+ About the opportunities to develop yourself & skills in Aviation, ITL Aviation is an ideal working environment. Aviation requires almost absolute accuracy, any deviations are almost difficult to correct but can only be handled with consequences.
You just need to complete your work in the Job Description (JD) perfectly and you can sharpen your working skill well.

One more thing deserved to be mentioned and valuable is that in ANA team, I not only perform tasks limited to the JD, but I am also trusted by my line Manager to assign other tasks, such as: Analyzing market data; Making reports; Preparing presentations for sales reports; Making sales plans,... I always keep one thing in mind: Do your best, do tasks out of your role and you will see how it's worth. You will get some in return - it's new skills, knowledge, the ability to push yourself beyond your limits.

There are skills at work that we think we don't need to know. But "Life is connecting the dots" - Steve Job. You won't know that later on in your career path or in your life there will come a time when you will need to use those skills you have learned in the past, and you have to thank to your manager who has asked you to do those things.

A very simple example from me, recently I was assigned to make a video clip of ANA HAN team to participate in the competition held by ANA. It was an opportunity for me to re-learn the skills of editing clips that I had forgotten since I was a student, I had the opportunity to update new technology skills, had the opportunity to talk and work with outsourcing to know new "tricks",… Right after that, my daughter had a contest at school, I had used that skill to make a clip for her and won the prize. She was very happy and proud of her mother.That makes me extremely happy, I see that what I study and do every day has its own meaning.

I would like to send you a quote that I really love: You can't connect the dots looking forward; you can only connect them looking backwards. So you have to trust that the dots will somehow connect in your future. You have to trust in something — your gut, destiny, life, karma, whatever. This approach has never let me down, and it has made all the difference in my life" - Steve Jobs

I am happy to share these with you!