How To Eliminate Fatigue When Living With Covid-19?
According to psychologists, the Covid-19 pandemic can be compared to a "
trauma
", both causing damage to physical health and negatively affecting the psychology and mental health of people.
Fatigue during Covid-19 time can be from the main reasons as follows:
Social Distancing has leaded to not having direct connections with people, causing emotional exhaustion and loneliness
WFH, restricted movements need new adaption, new skills to maintain connecting, relationship & maintaining energy. But not fully 100% of staff know how to do well that leads to low productivity, low contact, low effectiveness in working because it changes most our daily habits in working
Being infected with Covid-19 (F0, F1,..) must be quarantined, constant social distancing also has made us feel anxious, hopeless, loss direction, …in addition to health issue and treatment methods (Vaccination, medicines…)
Loosing job resulting in loss of income/property causes stress stress or conflicts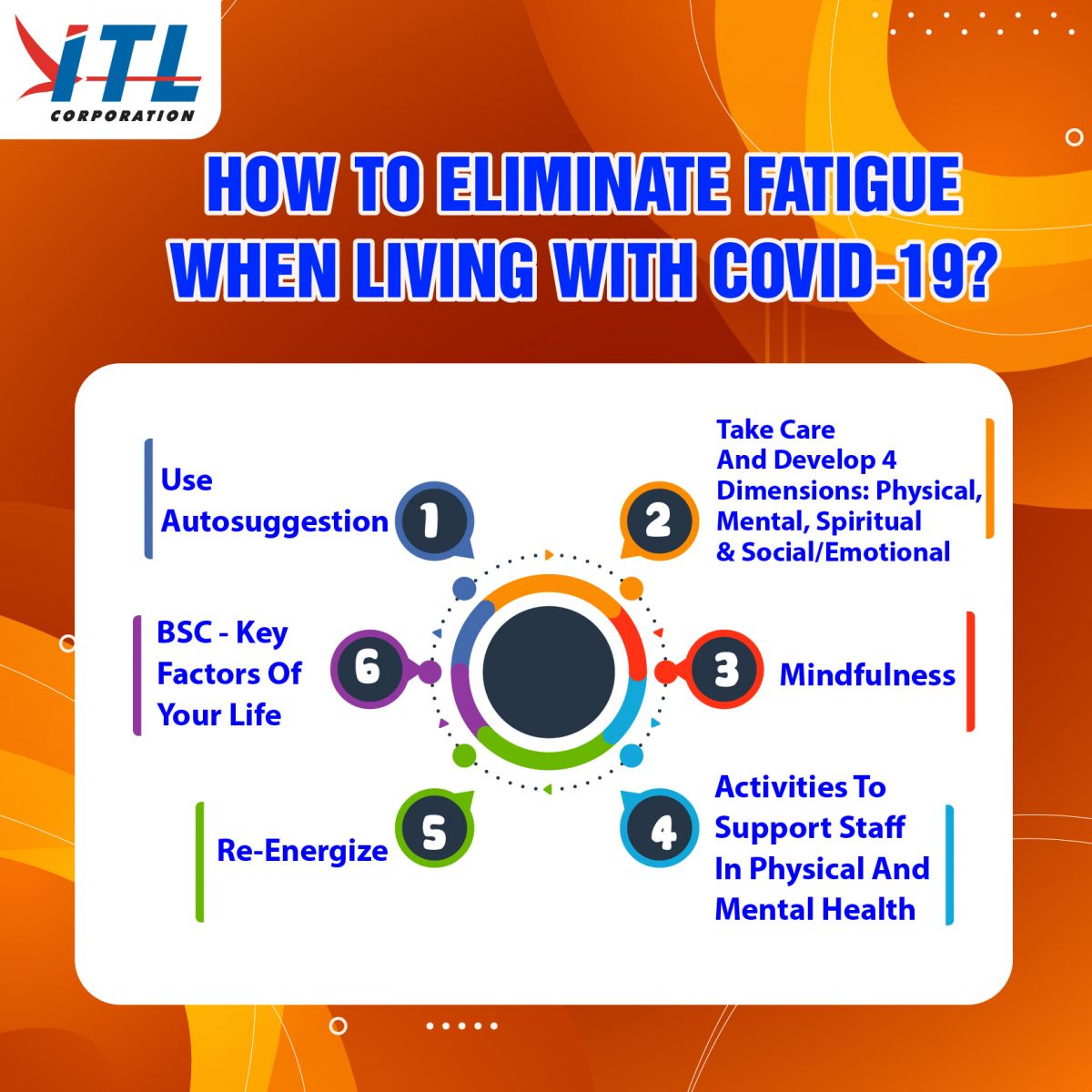 Life is impermanent - always changing and evolving, everything will pass, nothing lasts forever. The important thing is how to prepare and be agile to that change
. Although the pandemic situation is still there, it will pass. Staying motivated and following through on our goals will help us focus our attention away from these stresses and towards a more hopeful future.
Here are some methods to help you eliminate fatigue when living with Covid-19:
Use Autosuggestion
Autosuggestion is the influencing of your physical or mental state by thoughts and ideas that come from yourself rather than from other people. Autosuggestion is expressed through the following methods:
Avoid bad news, negative facts. Garbage In, garbage out – GIGO
Feed "nutritional" information daily. Clear in mindset Impermanence. Nourish in, nourish out – NINO
Take Care And Develop 4 Dimensions: Physical, Spiritual, Mental & Social/Emotional
- Physical training to keep your body healthy to create excitement for ourselves
- Stay away from toxic foods and bad habits that cause health deterioration
Find and choose successful role models, Idols you admire, and factors that create excitement every day
- Choose healthy "
spiritual foods"
- Avoid putting "
garbage"
in your head
- Avoid creating "
garbage"
& polluting the environment around you
- Balance life between work & family, personal & people around, creating rich and healthy life
- Choose a new way to connect after the pandemic
- Maintaining relationships is very important for people
Among these factors, Social/Emotional is the one that we have been damaged due to the impact of the pandemic, so it is necessary to invest in nurturing and caring for each person's social relationships and emotions.
Mindfulness
Let's practice and attract positive energy by practicing mindfulness through meditation, yoga, ... to keep strong spirits and positive energy, focus attention from stresses and towards a better future.
Activities To Support Staff In Physical And Mental Health
ITL has organized a lot of activities during the 2020 - 2021 period to connect spiritually, maintain benefits and protect health for all ITL-ers through the internal communications activities; Town Hall meetings; Gifts for staff by CEO and the company Union; ITL Sharing Fund; "
Welcome Back To Office
" activities to welcome ITL-ers back our office after the temporary distancing,...
Re-Energize
Focus to improve your 4 dimensions to reinforce immune system
Rebook your big Rooks of your life (Including your Family, your Health, your Career and your Social network)
Review milestones of timeline of each goal/target
Recharge by self-recognition, reward each achievement during Covid time
Refill new skills to adpat to New Normal, New Standard of ITL from 2022
Re-connect all relationships to "warm up" your social network
BSC - Key Factors Of Your Life
The personal balanced scorecard is the journey towards self-awareness, self-discovery and self-evaluation, based on a number of important criteria of each person's life, towards constant development and using personal abilities. Identifying our balanced scorecard will help to give us the opportunity to constantly improve ourselves, growing and achieving a sustainable work-life balance without losing our enthusiasm, curiosity and creativity.