ITL Aviation Receives The Appreciation Award From Kintetsu World Express For Accompanying Customers During The Last Pandemic Period
Recently, ITL Aviation division , RH HAN team, under ITL Corporation has received the Appreciation Award, recognizing the outstanding efforts and dedication of the RH HAN team to Kintetsu World Express (KWE) throughout 2021 being full of challenges due to the impact of the Covid-19 pandemic.
Mr. Alex Binh - Cargo Sales Manager and RH HAN team members have received this prestigious award from Mr. Takiguchi - General Manager of KWE.
In the challenging context of aviation industry, with the strategy of "
Customer Centric
" - putting customers at the center of our activities, the RH HAN team members in particular and ITL Aviation in general have shown their roles as the trusted partner accompanying our customers to make their efforts to maintain the scheduled flights and find the flexible solutions to serve KWE's freight demands without interruption, making the important contributions to the growth of this business during the special 2021.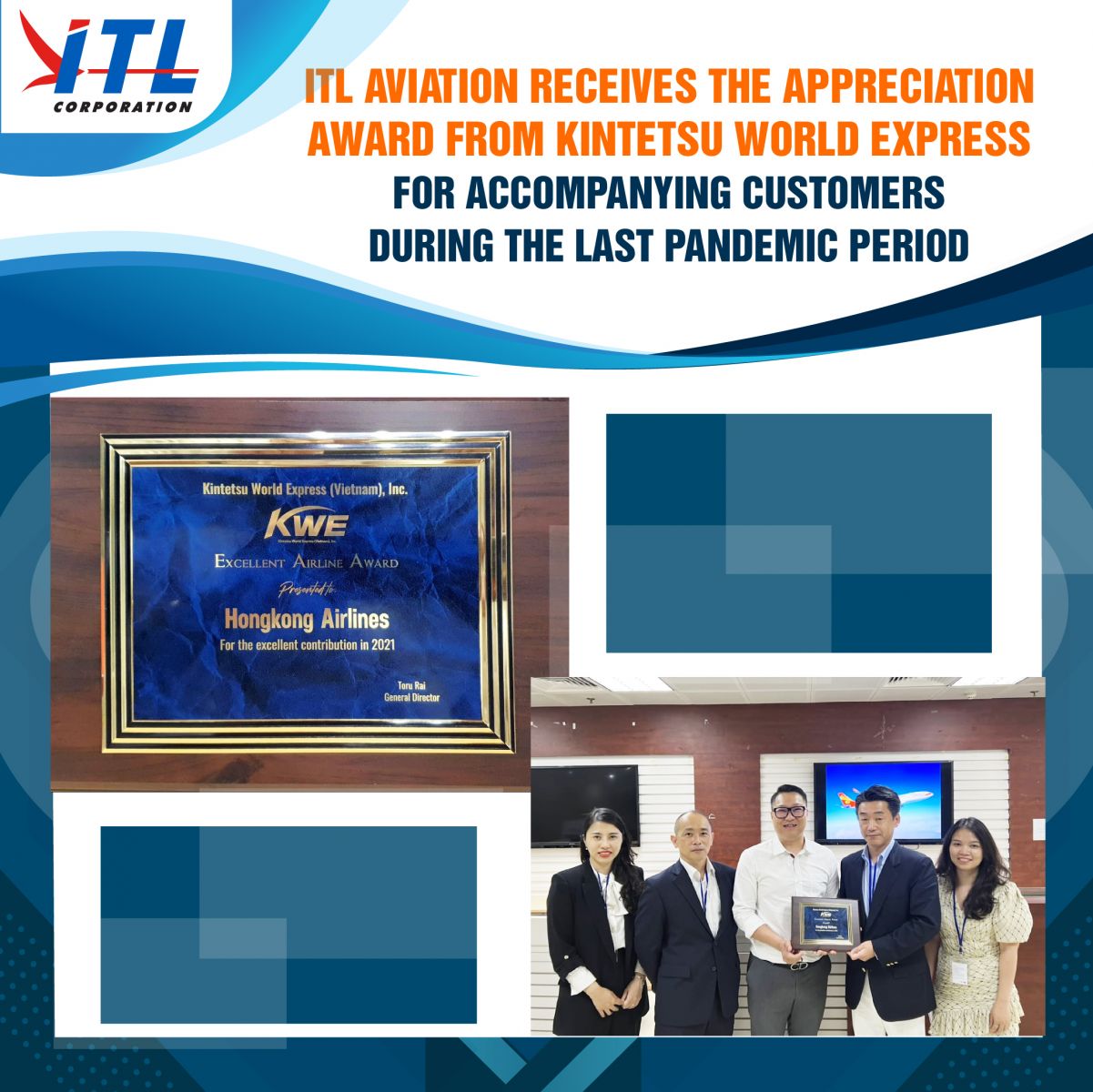 The result of the RH HAN team's extraordinary efforts has made Hong Kong Air Cargo become one of the three key airlines and the largest cargo carrier for KWE with 1,440 tons of cargo on the commercial flights and 4 charter flights during 2021, and receving the highest appreciation from the KWE Board of Directors through the proud
Appreciation Award
.
KWE has expressed its appreciation to the RH HAN team and Hong Kong Air Cargo for cooperating and providing the best services to KWE's key accounts such as: Samsung Display, Samsung Semiconductor, Apple, Mektec ... within RH's network in Hong Kong (HKG), Shanghai (PVG), Zhengzhou (CGO), Bangkok (BKK), Manila (MNL), Japan...
This award also represents KWE's highest recognition and appreciation for the efforts of the RH HAN team in providing quality and trusted services to KWE and their customers.
At the same time, the efforts for customers of the RH HAN team have been rewarded when KWE commits to continue to cooperate with the RH HAN team as the important partner in 2022 and onwards.
This award will be the motivation for the RH HAN team and ITL Aviation division to continue to achieve more outstanding successes with the strategy of "
Customer Centric"
- putting customers at the center of our activities and making our efforts to bring the added values to customers.