ITL Corporation Supports Students And Households With Difficult Circumstances In Hoa Vang District, Da Nang City
On July 29
th
, ITL Corporation organized the
CSR Program Of Giving Books & Scholarships To Students And Necessities & Livestock To Households With Difficult Circumstances
at the Center for Culture, Sports and Community Learning of Hoa Bac commune, Hoa Vang district, Da Nang city within the framework of ITL Company Trip 2022.
This special CSR program was coordinated to organize by ITL, Tu Sach Nhan Ai Program and Vietnam Fatherland Front Committee of Hoa Bac commune and participated by ITL Management Board including Mr. Zul- Chairman; Mr. Ben Anh – CEO, 6 VPs and a lot of members of ITL Hanoi and Da Nang.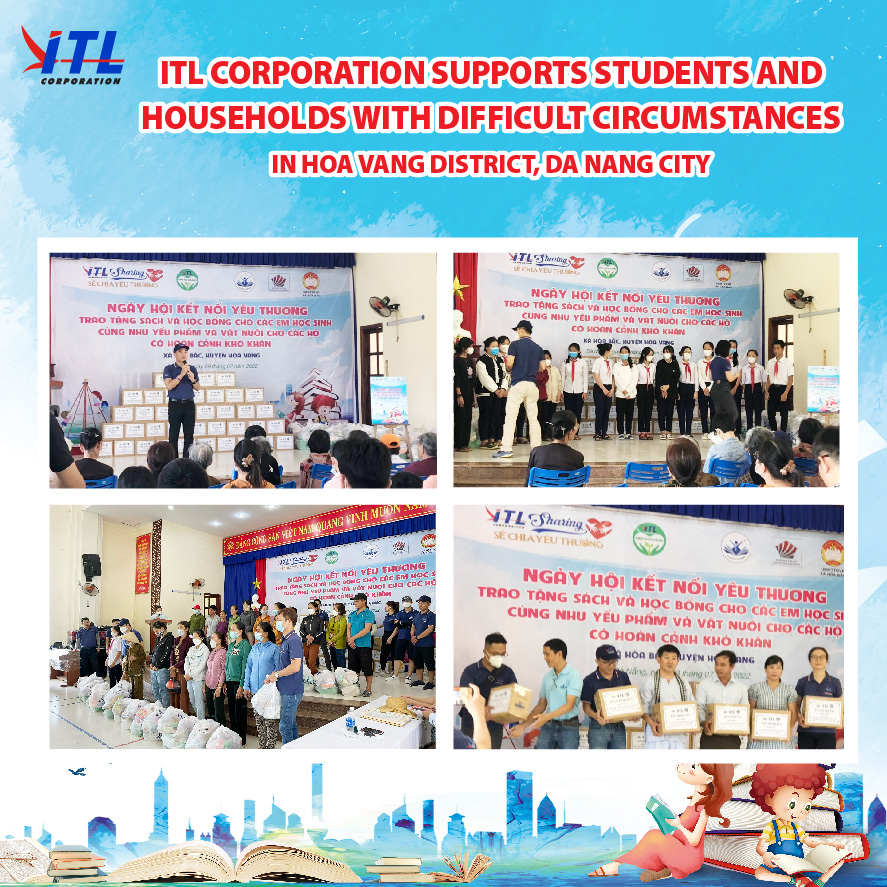 Within the framework of the program, ITL presented some meaningful and practical gifts to bring knowledge and open brighter futures for students of Hoa Bac Primary School & Nguyen Tri Phuong Secondary School, and at the same time donating "
fishing rods
" livelihood to households facing difficult circumstances in the locality with the activities as follows:
Organizing the fun day with the activities for children in the area
Visiting and presenting gifts to households with difficult circumstances
Presenting 38 bookcases and 40 scholarships worth 1,000,000 VND/scholarship to students with difficult circumstances in Hoa Bac Primary School and Nguyen Tri Phuong Secondary School
Presenting 80 necessity gifts to people in the locality
Donating livestock (cow, pig, chicken) to help livelihoods for households with special difficulties

The total value ITL has donated to students and households is more than 200 million VND. These gifts have really brought joy and hope to students and people in Hoa Bac commune, the program has also been received enthusiastic support from the local authorities, Vietnam Fatherland Front Committee of Hoa Bac commune.

Hoa Vang district, Da Nang city is also the area where ITL broke ground Da Nang ITL Logistics Distribution Center in March, 2022 at Expanded Hoa Khanh Industrial Zone.

ITL cooperates with prestigious organizations and local authorities to implement this meaningful CSR program aiming to fulfill its social responsibility and desire to give the best values to the community and society where ITL is present with the role of a leading Logistics provider in Vietnam and the region. In both present and future, we are always ready to welcome the young generation of Hoa Vang commune to become a part of ITL family.