Vietnam's Thriving Economy Rooted In Spirit Of Sharing, Compassion: AmCham Executive
Decorating her home in District 2, Ho Chi Minh City with Buddha statues in the belief that they bring peace and good luck, Amanda Rasmussen, chairwoman of the American Chamber of Commerce (AmCham) Vietnam, Ho Chi Minh City, said her family considered Vietnam their second home.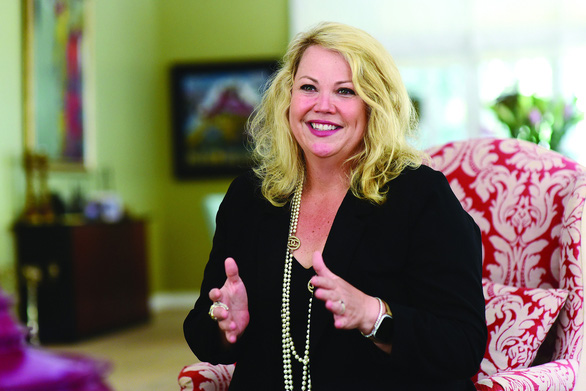 Amanda Rasmussen, chairwoman of the AmCham Vietnam, Ho Chi Minh City, gestures during an interview with Tuoi Tre (Youth) newspaper at her home in District 2, Ho Chi Minh City, Vietnam

Vietnam, where Rasmussen has been staying for more than 17 years, has witnessed the journey of maturity of a young American girl who was eager to learn to become the businesswoman and inspirational leader she is today.
Over the same time, she saw dramatic changes in the Vietnamese economy, which, she believes, is still the best development ground that offers many opportunities to both foreign and domestic investors.
In January 2003, from Singapore, Rasmussen made a big decision to begin a new life in Vietnam. At that time, she had just been married for about six months.
Vietnam was not as busy as it is now, with the streets in big cities like Ho Chi Minh City or Hanoi filled only with motorcycles and bicycles, and very rarely cars.
"Cars [were so few] that when you saw a car on the road, people would wonder immediately whose it was," she recalled.
Until now, she still remembers the feeling of being warmly and openly welcomed by her colleagues and friends at that time.
Even the neighbors and random locals that Rasmussen encountered when she first started her new life were nice and welcoming.
Her 15-year-old son was born and raised in Vietnam, a country he has grown ever so attached to.
Rasmussen remembered experiencing culture shock when she discovered Vietnam's lack of ATMs back in 2003, or how the Saigonese enjoyed their coffee sitting at sidewalk cafés with few to no takeaway options.
She also recollected the first time she was called 'chi gai' (older sister) by her colleagues.
"[Calling people who are not one's family members] 'brothers and sisters' is a very warm family culture that I believe is hard to find anywhere except in Vietnam," she said, smiling.
"When people in a business call each other that way, that place has become a family already."
The way Vietnamese people love children is special and assuring, she said, and the innate love for family present in each Vietnamese is also very unique.
Ho Chi Minh City has the most unique blend of a very busy city and yet one with a very good sense of community and pace of life.
"Willingness to share' is something very special, very unique happening everywhere in this country," she said.
Having spent 17 years in Vietnam, Rasmussen has experienced all the ups and downs of running a business, having switched professions multiple times.
She has drawn a big lesson that the ability to adapt to the situation is key.
In this regard, she thinks Vietnam has done a great job in fighting against the novel coronavirus disease (COVID-19) pandemic thanks to its adaptability.
The way the Vietnamese government has been combating the epidemic is miraculous, she added.
In any situation, Rasmussen believes adapting helps people overcome difficulties faster.
That adaptability can be seen in the people and businesses of Vietnam both as a reason for the country's great economic development and a result of it, she said.
Vietnam has changed very quickly in the past two decades. Businesses and investors are here to look for development opportunities that are taking place in this land with its own vitality despite the occasional ups and downs, the AmCham executive said.
Up to now, Vietnam has remained a country with the highest development quality in the region, opening up opportunities that foreign investors do not want to ignore, she said.
They have considered Vietnam a safe haven for investment, a place for young people to try new things, and one that offers great opportunity particularly in terms of domestic growth.
When it comes to safety, Rasmussen thinks foreigners who choose to settle in Vietnam all agree that this is one of the factors they are most satisfied with.
From her work in AmCham, she proposes that Vietnam cut red tape and enhance transparency to create a more conducive business environment and a sustainable place for investors to continue to thrive.

-Source Tuoitre.vn-