[Infographics] 25 Years Of Vietnam - Asean Trade Relations
Vietnam became the seventh member of the Association of Southeast Asian Association of Nations (ASEAN) on July 28, 1995, marking a milestone in the country's integration into regional affairs as well as in regional co-operation.
Over the past 25 years, Vietnam has demonstrated its goodwill, efforts, dynamism and responsibility and contributed to ASEAN's achievements.
As a Chair of ASEAN 2020 themed 'Cohesive and Responsive', Vietnam has been active in leading and co-ordinating ASEAN's efforts and co-operating with partners to control and prevent the spread of COVID-19 as well as minimise the socio-economic impacts of the pandemic.
In terms of economic co-operation, Vietnamese Minister of Industry and Trade Tran Tuan Anh said as the ASEAN Chair in 2020, Vietnam is responsible for taking the lead and working with partner countries to recover the regional economy through the issuance of joint statements to enhance co-operation and limit the impact of COVID-19.
According to the Vietnamese General Department of Customs, total trade turnover between Vietnam and ASEAN reached US$57 billion last year, a 10-fold increased compared to 25 years ago.
ASEAN is the fourth largest export market of Vietnam, behind only the EU, the US and China.
In 2019, the total export turnover of Vietnamese enterprises to ASEAN hit nearly $25 billion, up by 1.3 per cent compared to 2018 and 30 per cent compared to 2016.
In the first five months of 2020, due to the impact of the COVID-19 pandemic, Vietnam's exports to ASEAN countries only reached $9.8 billion. However, according to businesses, besides difficulties, COVID-19 has also created opportunities for Vietnamese agricultural products to conquer the markets of Singapore, Thailand and Malaysia.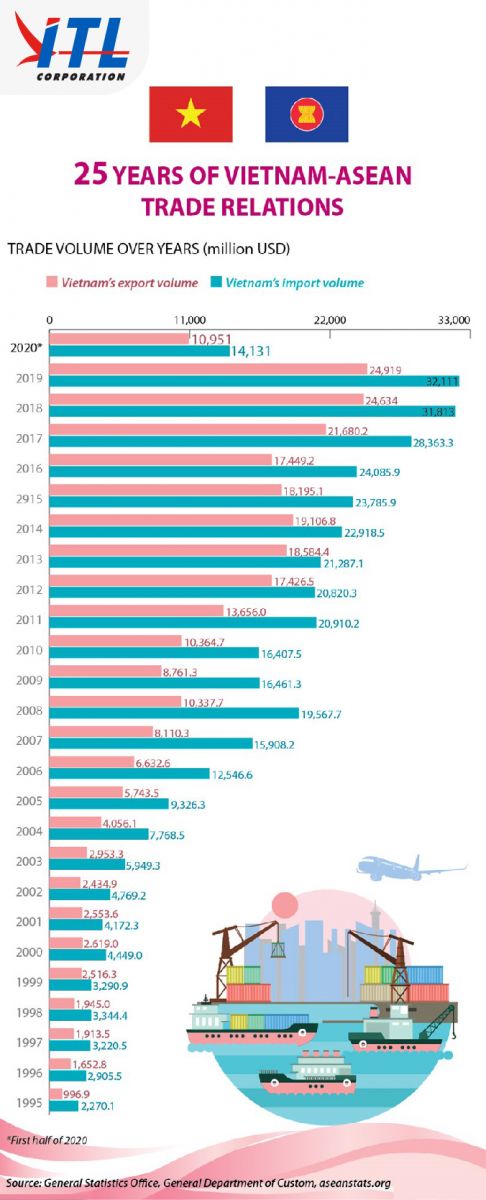 *Source: vietnamnews.vn