The Graduation Ceremony Of The Dual Vocational Training Program
In last Mid-December 2020,
the Graduation Ceremony of the Dual Vocational Training program
with the standard of DIHK
(
Association of German Chamber of Industry and Commerce),
majoring in "
Forwarding & Logistics Agent",
Course 1 (2017 - 2020) organized by the
Delegation of German Industry and Commerce in Vietnam
(
GIC/AHK Vietnam
) in collaboration with ITL Corporation,
Ho Chi Minh
City
University of Transport
and other international companies in the field of Freight Forwarding/Logistics, took place at GIC/AHK Vietnam office, 33 Le Duan street, District 1, HCMC. At the Graduation Ceremony, the DIHK diplomas were presented to 5 students of course 1 (2017 - 2020), these students are working at the Logistics companies, including ITL Corporation.
The Dual Vocational Training program
has been provided by GIC/AHK Vietnam in cooperation with the universities & colleges in Vietnam, Vietnamese and international companies aiming to provide the dual vocational training with theoretical education and practical training in businesses for 3 years with the DIHK standards. The target of the program is students of the universities and colleges with excellent academic achievements and excellent English skills. The course is for Logistics, mechatronics, hospitality,... The program will help students get acquainted and better integrate with the practical environment and working requirements of the company from the first join.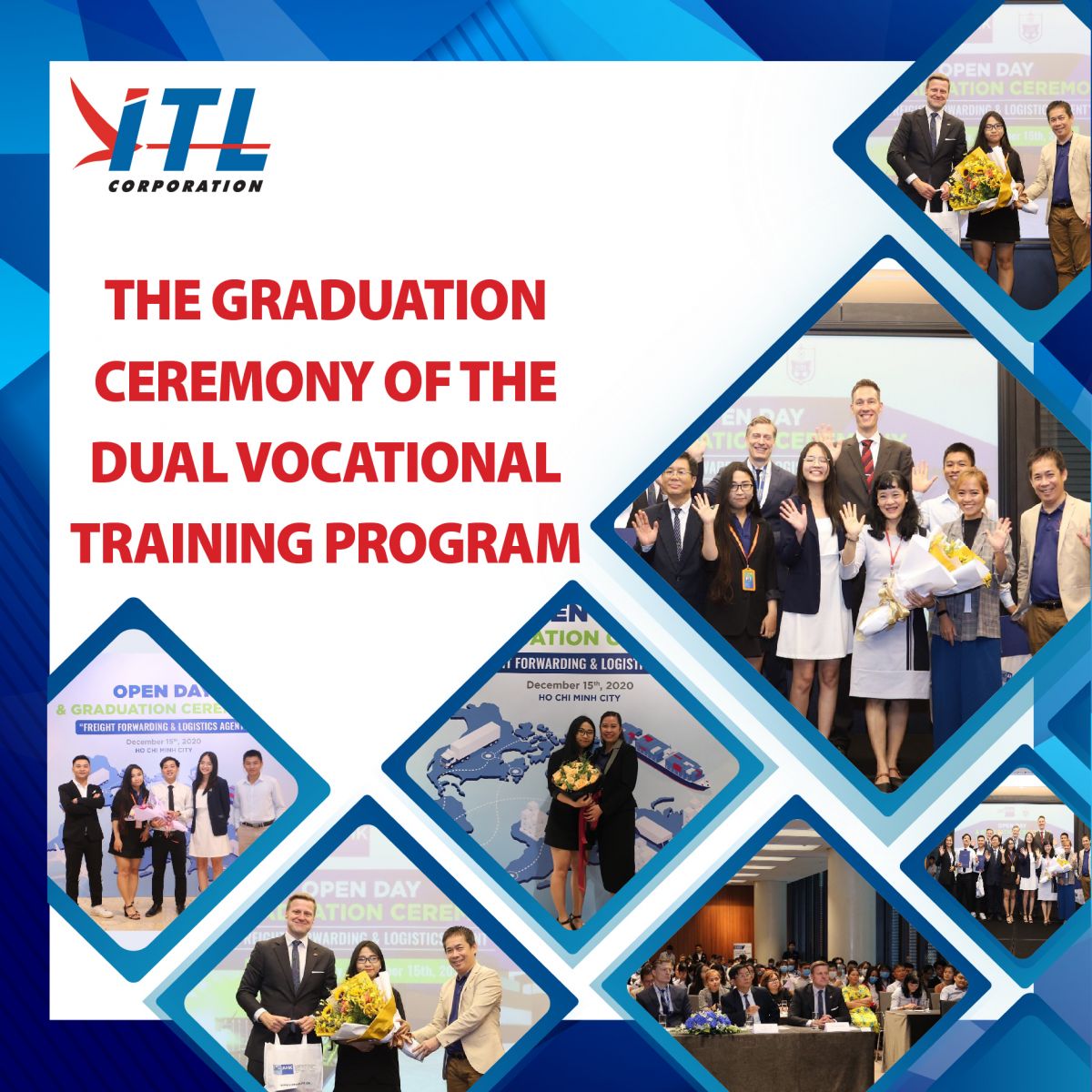 As a Business Partner of GIC/AHK Vietnam, ITL Corporation has supported for the
Dual Vocational Training program's
students to have the opportunity to learn, experience and develop skills in different departments with guidance from heads and managers of the corporation in learning-by-working training. After 3 years of training, the
Dual Vocational Training program's
students will graduate and become full-time employees, starting a new exciting journey in ITL Corporation.
Ms. Jasmine Tuyet (Sea Freight department), a member of the
Dual Vocational Training program
shared about her 3-year training journey at ITL:
"At ITL, I have received enthusiastic supports and guidance from the managers, this helps me in creating plans and orienting my career path, learning ITL's culture and core values with the DNA "No Pain No Gain". After the Dual Vocational Training program, I want to continue working at ITL and becoming a Forwarding & Logistics Agent as my major".
As a leading Logistics expert in Vietnam and region, ITL has continuously contributed to the training and development of high quality human resources for the Logistics industry in Vietnam in recent years. We expect that those highly professional Logistics talents will contribute to bring Vietnam to the world Logistics map. We are also willing to welcome and create opportunities for talents to integrate and develop in a professional working environment in ITL Corporation in future.