ITL Continues Receiving The GFA Label Leaf Level Two From Green Freight Asia Non-Profit Association (GFA)
In early March 2021,
ITL was honored to receive the GFA Label Leaf Level TWO from Green Freight Asia Non-Profit Association (GFA),
recognizing ITL's commitment and efforts in adopting Sustainability Practices and implement the green freight programs and initiatives to increase the efficiency of fuel usage and minimizing CO2 emissions in Vietnam. Along with receiving this excellent certification, ITL also can use the
GFA Label Leaf Level TWO
granted by GFA to stick on ITL's Containers, Vans, Trucks…, showing ITL's commitment in environmental protection.
Previously, ITL was honored to receive the
GFA Label Leaf Level ONE in implementing Green Road Freight Practice
from GFA in June 2019 and officially
became a Silver member of this
Non-Profit Association
in December 2020.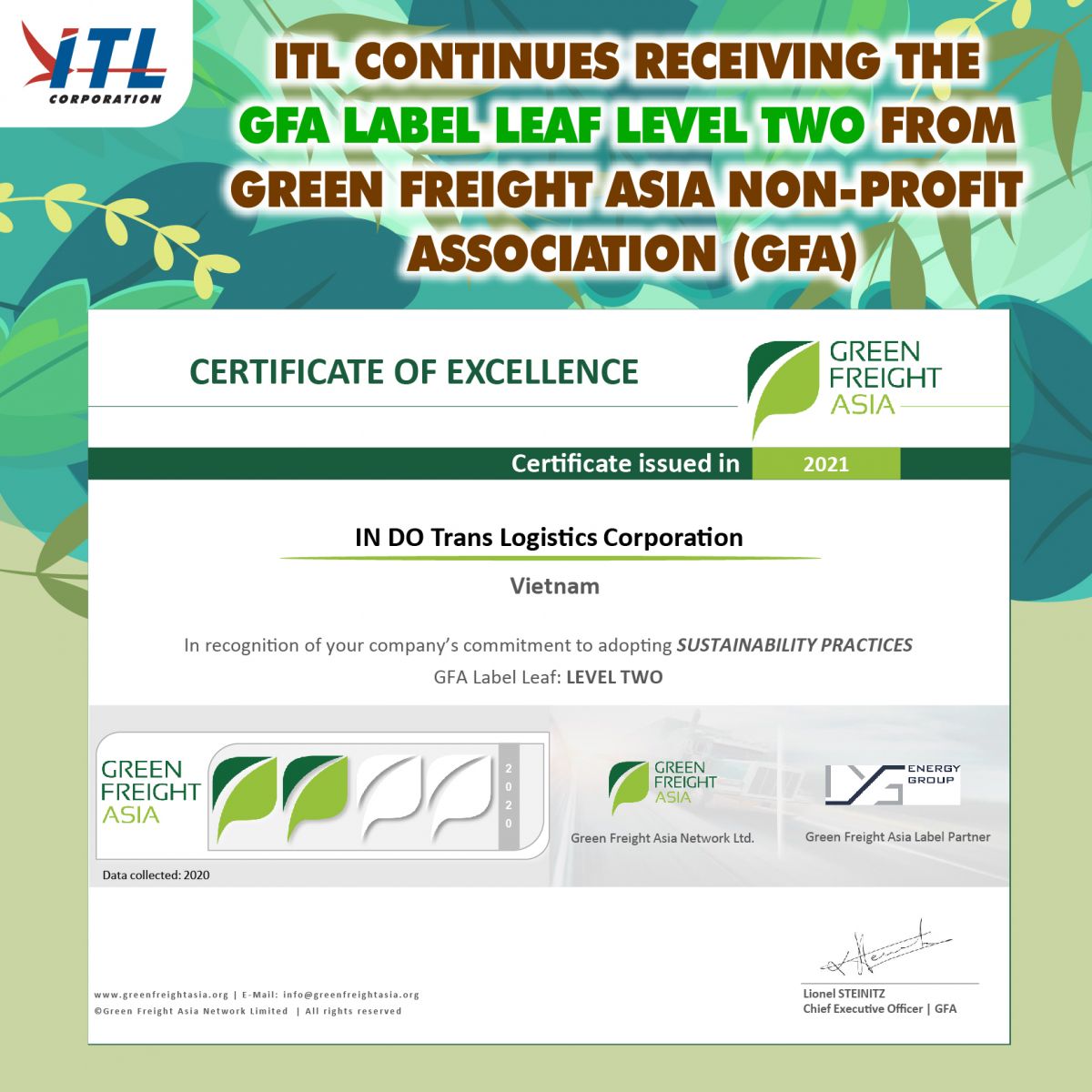 As one of the leading Logistics companies in committing and focusing on green freight programs, ITL has organized many training programs to raise the awareness of saving fuel, protecting the environment, and ensuring the safety on driving, such as
Defensive And Eco-Driving Competition, Sustainable Green Freight And Logistics
that are held annually, we regularly organize the training sessions and awarding certificates to drivers on safe driving skills, updating knowledge on traffic laws, eco-driving to save fuel and reduce emissions into the environment.
---
*About Green Freight Asia, GFA certificate and GFA Label
Green Freight Asia (GFA) is a non-profit association of Industry players, which collaborate with industry companies, NGOs, and governments to improve the energy efficiency, fuel efficiency, reduce CO2e emissions, and to lower operational costs across the entire supply chain. Green Freight Asia recognizes companies that demonstrate a commitment to (and progress toward) the adoption of green freight practices through its voluntary green certification program, the GFA Labeling and Certificate Programme.

A GFA certificate is an additional external validation of a company's commitment to sustainability. The vision behind the GFA Label is to build a community of green freight players (shippers and buyers of road freight services) working closely through agreed mutual incentives, particularly during the carrier selection process.
*About Green Freight Asia:
https://www.greenfreightasia.org/