[ITL People] Ms. Jasmine Tuyet - Sea Freight Executive - Sea Freight Team, ITL Corporation
How is your 2021? What do ITL and Sea Freight team mean to you, especially in the last period?
2021 is a special memorable year for everyone, the pandemic has affected many aspects of life and young people like me are no exception.
After over 5 months of social distancing in Ho Chi Minh City, I have learned how to quickly adapt and not be afraid to change to fit the situation as well as equip myself with new skills.
I have made it a habit to think positively in the face of bad situations and be willing to let go of the things that make me negative. In addtion, I am more proactive in learning about health protection, community benefits as well as spending more time with myself and my family.
For me, the most wonderful thing in the last year is that Sea Freight team members were united and being together to overcome the most stressful days of the pandemic
. The biggest obstacle we faced was the beginning period of Working From Home, when our members had a lot of difficulties in communicating and connecting, along with the unstable international internet during this time that also made our execution steps take longer.
However, thanks to the encouragement and support from our Head of Department - Mrs. Lucy Thuy, our Sea Freight team members have still stayed optimic and try our best to complete our goals as expected.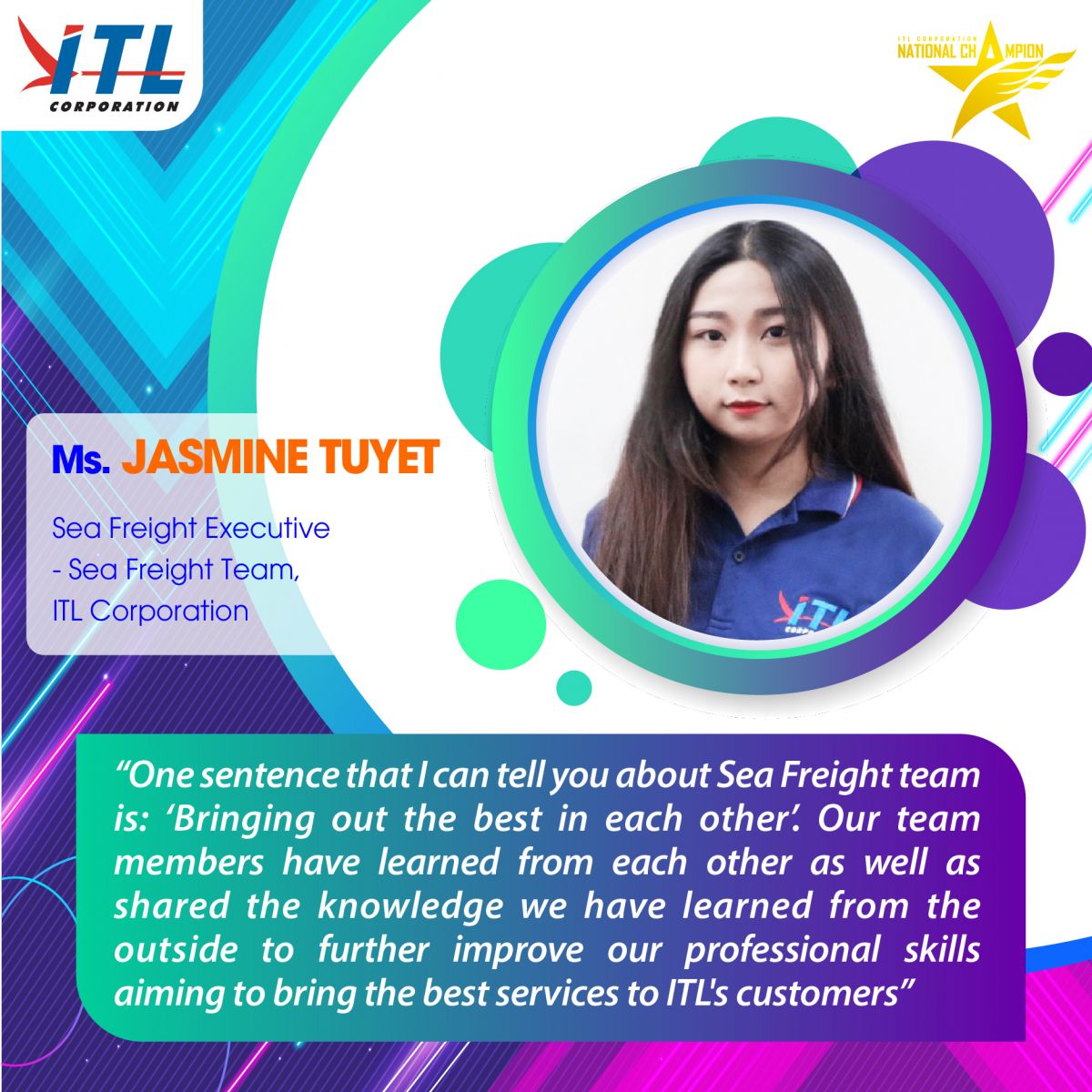 Can you please share with us about your work in Sea Freight team? If you have chance to tell us about your team in one sentence, what would it be?
With the characteristics of sea freight services that is suitable for transporting large volumes of goods over long distances and not requiring fast delivery time, ITL provides a full range of services including Full Container Load (FCL), Less Than Container Load (LCL), and Buyers Consolidation (CFS) in all trade lanes. In addition, ITL offers full service EOR (Exporter of Record) and IOR (Importer of Record) services to its customer base as required.

• For export goods: We play the role of contacting the foreign shippers/agents during the preparation for shipment; Contacting shipping lines/co-loaders to book; Contacting customs clearance, cargo insurance and domestic shipping (if any); Preparing the necessary documents such as Bill of Lading, declaration of VGM/AMS/ACI/AFR,... and tracking the export process of goods to promptly handle arising problems.

• For import goods: We receive and check the shipping documents from foreign agents; E-manifest declaration of goods; Receiving arrival notice of goods from shipping lines/co-loaders and sending the notices of goods to customers; Issuing delivery orders and tracking the import process of goods to promptly proceed arising requests.

Sea Freight team members handle a wide variety of job-demanding tasks in a day. Therefore, we need high concentration and logical thinking at work along with sharp negotiation skills to complete the tasks well. In addition, all the members are able to work well under pressure, being careful in our work with time management skills and speeding up to proceed our tasks to be able to promptly respond to requests from customers and avoid loss of costs for the company.

Above all, the important thing that makes up Sea Freight team is the engagement, understanding and mutual supports between the members. One sentence that I can tell you about Sea Freigh team is: "Bringing out the best in each other". Our team members have learned from each other as well as shared the knowledge we have learned from the outside to further improve our professional skills aiming to bring the best services to ITL's customers.

2022 is approaching, do you have new year wishes about your work in ITL?

Taking a look back at a challenging year, I have realized my personal values to continue to do what I love and continue to contribute to ITL. I am ready to welcome the new year 2022 with optimism and positivity for new experiences. In my current work in ITL, I want to have more engagement - mutual supports between our team members and together with other teams to bring the best experiences to customers about ITL's services.

I hope that in 2022, ITL will continue to achieve more success with its role as a leader in the Logistics industry in Vietnam and the region.