ITL Binh Duong Achieves C-TPAT Certification
On December 31st, 2021, ITL Binh Duong, a member of ITL Corporation achieved C-TPAT certification. This will meet the requirements of customers in ITL Binh Duong warehouse for export cargos (CFS), improving our service quality and providing added values for our customers.
C-TPAT
stands for Customs-Trade Partnership Against Terrorism - A security program that works between US Customs and Border Protection (CBP) to build supply chain and border security.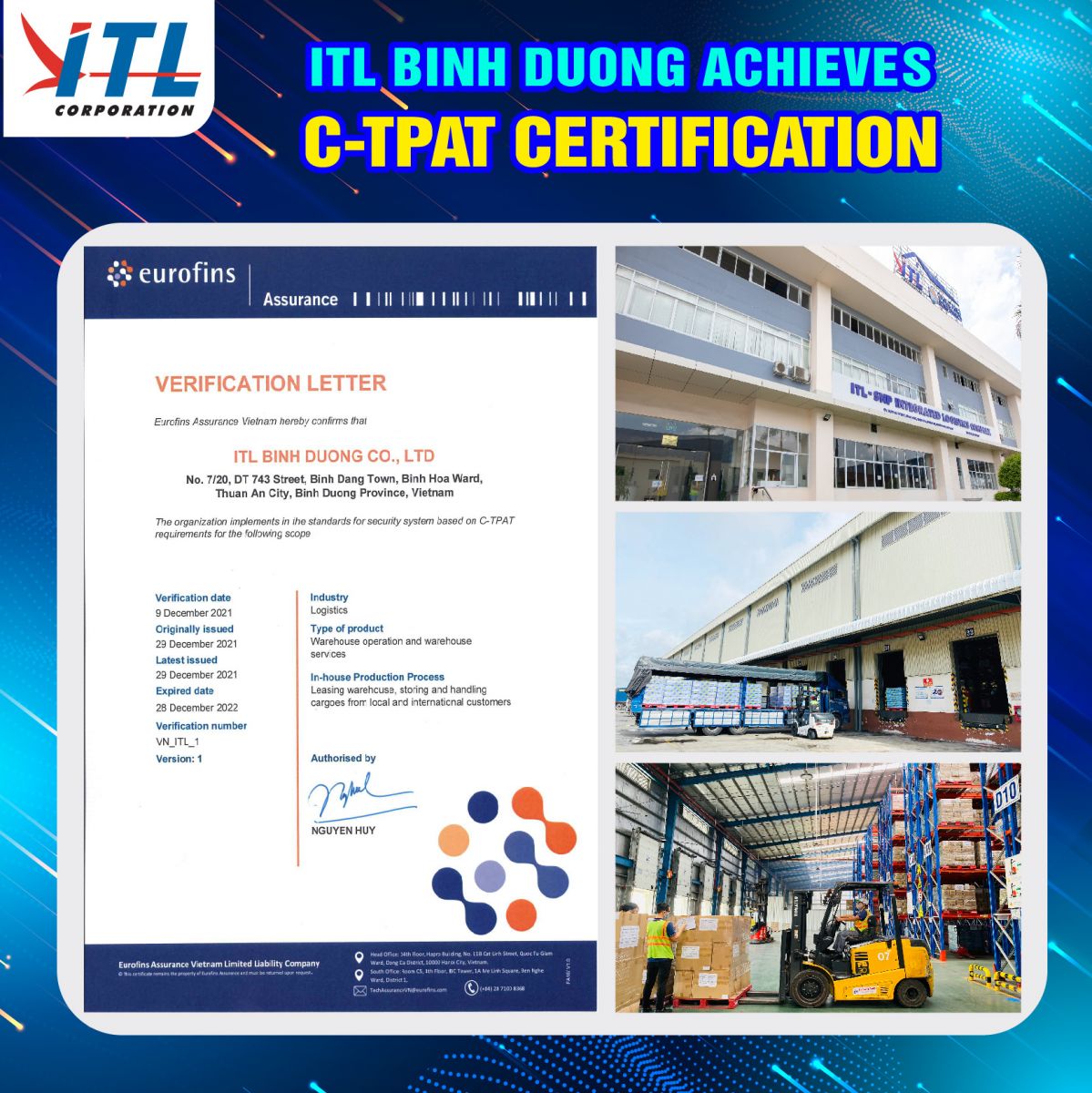 This is a joint initiative of the US government and businesses launched in November, 2001 after September 11
th
attacks to strengthen border security and global supply chains by cooperating and connecting in the international supply chains, such as: Importers, carriers, licensed customs brokers, warehouse operators and manufacturers,…
Through this program, CBP requires businesses to ensure the implementation of all security practices in commercial operations and communication, and verifying the security guidelines & criteria of its business partners in the supply chains.
As the warehousing operations and provider, ITL Binh Duong has fully complied with the specified criteria of C-TPAT:
Physical Security
Personnel Security
Access Controls
Partner Security
Container Seal Security
IT Security
Cargo Security
Security & Threat Awareness Training

Achieving C-TPAT certification will contribute to building and enhancing the reputation of ITL Binh Duong in the export service market (CFS); Expanding the cooperation opportunities between ITL Binh Duong and customers, contributing to improving the application and practice of necessary standards for safety and security following the international standards in warehouse operations.

In addition, our customers feel more secure when cargos are handled and exported from ITL Binh Duong warehouse, cargos met strictly standards and assessments, customers do not have to worry about cargos being returned for non-compliance with C-TPAT, as well as reducing time in the customs - border gate inspection, reducing disruptions in the supply chains.


In the upcoming time, ITL will also continue to implement C-TPAT compliance to other warehouses of ITL like ITL VSIP Bac Ninh to complete supply chain services and serve our customers at our best.