Viet Trans Link Cambodia Receives Certificate of Merit from Cambodia Anti-Drug Department
Recently, Viet Trans Link (VTL) Cambodia, a member of ITL Corporation, has received the Certificate of Merit from Cambodia Anti-Drug Department, honoring the company's efforts and contributions in complying with Cambodian law and preventing drug trafficking via our transportation services in this country.
According to a report by Cambodia Anti-Drug Department published at the end of March 2022, the country's functional forces have dismantled 1,694 drug cases (
Down 20.5% over the same period of last year
) and arrested 3,710 criminals.
This certificate is a deserved recognition for the efforts, diligence and great vigilance of VTL Cambodia team during the last period, affirming our commitments in complying with Cambodian law, at the same time demonstrating the social responsibility of a business in proactively preventing drug trafficking that has been existing and increasing in Cambodia.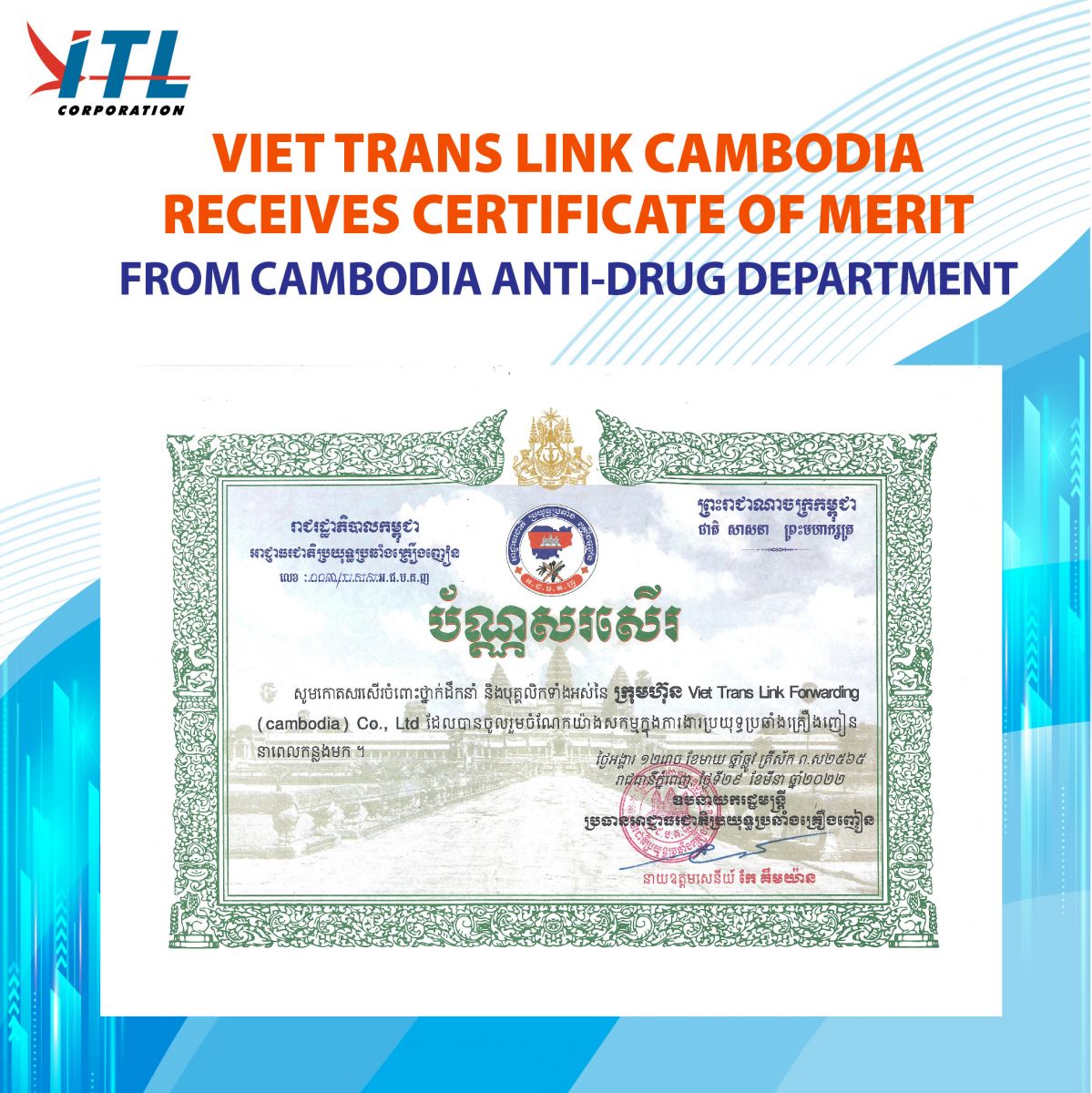 In 2020, with the responsibility, diligence for work, strict compliance to the SOP and vigilance, VTL Cambodia team twice detected drugs during the inspection of transported goods, helping Cambodian police arrest criminals, with a total amount of drugs up to 1,466.51 grams.
Both of these events occurred at the time when our team was handling large volumes of express delivery in the challenging operating conditions due to the impact of Covid-19. This has forced many flights to be cancelled causing a backlog of goods. However, despite the challenges of the pandemic, VTL Cambodia team has done a great job in complying with the security policies aiming to help to protect the company and accompany the authorities to prevent drug traffickers.
"
We cannot stop drug trafficking from offenders, but our team must be careful in controlling our export shipments with a great sense to protect our Company and our colleagues. We will continue to take strict measures to keep offenders at bay so that they could not traffic illegal substances through our services
",
said Kevin Siet, Operation Manager of VTL Cambodia.
In the coming period, VTL Cambodia will continue to comply strictly with Cambodian law from the Ministry of Interior and the Ministry of Posts, Telecommunications And Information Technology to be more proactive and coordinate to prevent drug trafficking activities via our transportation services.