ITL Aviation Myanmar Receives Outstanding Achievement Award From Malaysia Airlines (MASkargo)
Recently, ITL Aviation Myanmar has marked another milestone of its success when proudly receiving the award honoring outstanding sales achievement from Malaysia Airlines (MASkargo). Mr. Daniel Win -
the representative of ITL Aviation Myanmar was honored to receive this award from Mr. Mark Jason Thomas - Chief Operation Officer of MASkargo,
the awarding ceremony took place within the framework of this airline's global conference taking place in Kuala Lumpur, Malaysia during the past three days from 17th to 19th August 2022.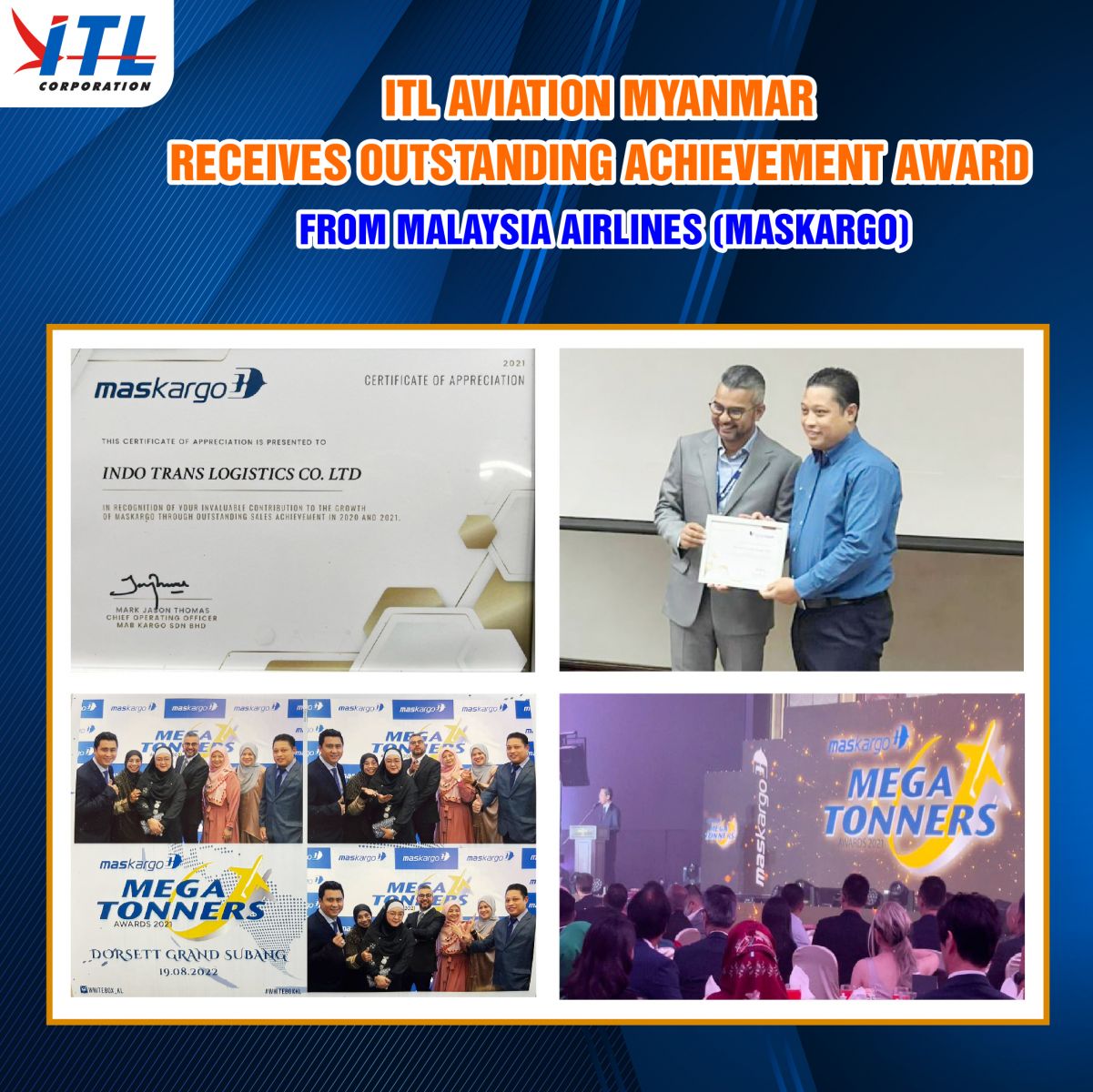 As a trusted partner of MASkargo, ITL Aviation Myanmar has proven its important role in growing the airline in Myanmar market during the challenging period of 2020 – 2021 with excellent business results and outstanding efforts in providing flexible solutions to serve the freight demands of customers.
Previously, MASkargo operated in Myanmar market by narrow-body aircraft and since 2020, the airline has converted to wide-body A330 aircraft (P2C - Passenger to Cargo flight) and Freighter on the route of Kuala Lumpur – Yangon - Kuala Lumpur (KUL – RGN - KUL). ITL Aviation Myanmar with outstanding capacity and professional working spirit has handled both P2C & Freighter successfully and smoothly during 2020 & 2021 and being honoured to receive lauds from this airline on its e-Newsletter at the beginning of June 2020.
Even in difficult times being caused by the Covid-19 pandemic and domestic political uncertainties, ITL Aviation Myanmar team, representing the spirit of overcoming adversity, has always maintained their determination, unity and made more efforts to grow the business, bringing more values to our customers and partners.
This award and the recognition of our partners has continued to affirm ITL Aviation Myanmar's solid position as one of the leading GSSAs in Myanmar, confidently bringing the best Aviation solutions to meet our customers' cargo demands.