ITL Corporation Brings "Clean Water For Schools" To Cai Be District, Tien Giang Province
On June 2nd, 2023, ITL Corp cooperated with HCMC Sponsoring Association For Poor Patients organized a ceremony of water filtration systems donation at 33 schools in Cai Be district, Tien Giang province. These systems provide clean drinking water meeting national standards of the Pasteur Institute for more than 20,102 students and teachers here.
On this occasion, 80 scholarships and 120 bookcases were also awarded by ITL to six schools in Cai Be district to contribute to nurturing young talents, creating motivation to study and develop.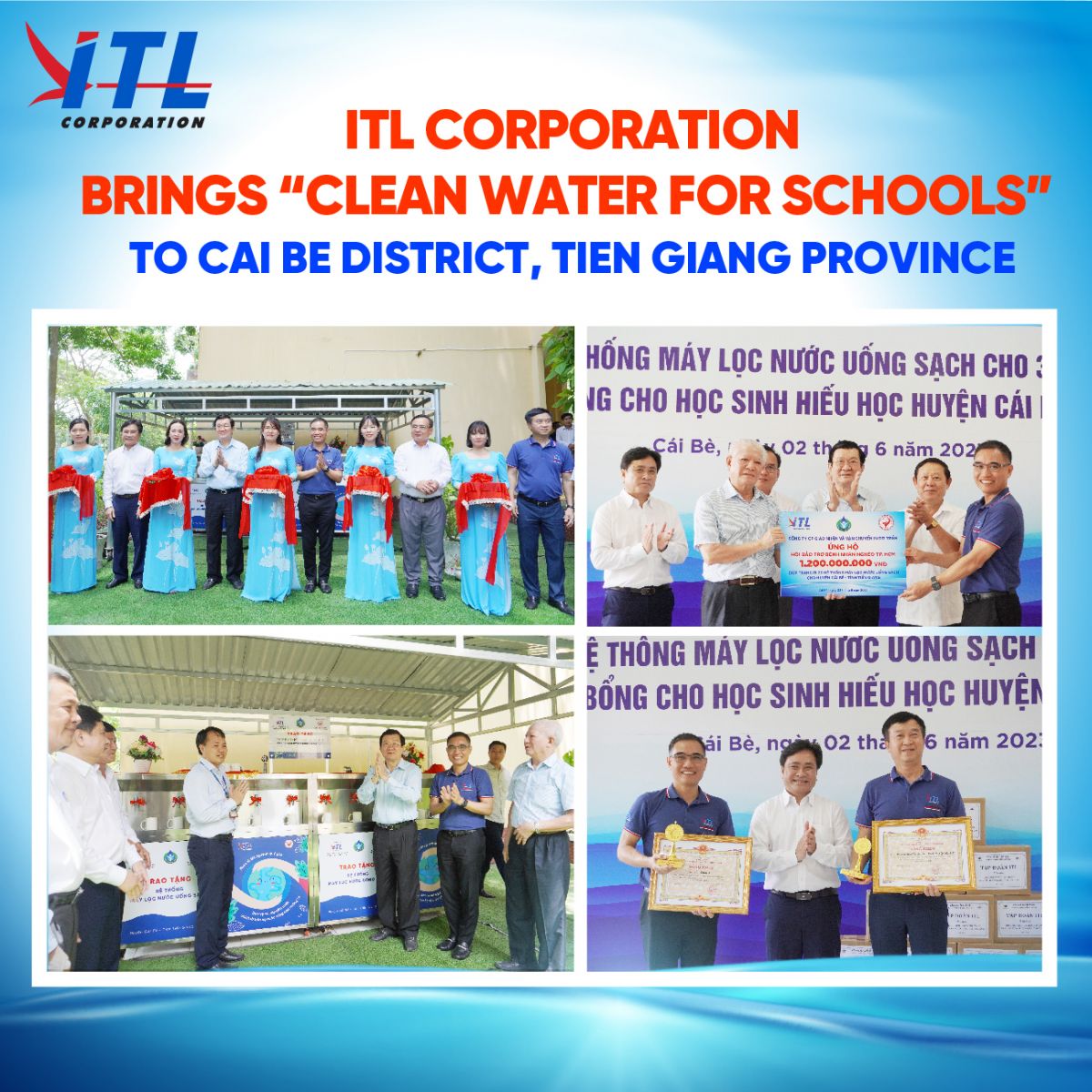 The ceremony took place in a solemn atmosphere at Thien Ho Duong High School with the participation of Mr. Truong Tan Sang - Former President of Vietnam; Mr. Tran Thanh Long - Chairman of HCMC Sponsoring Association For Poor Patients; Mr. Tran Tuan Anh – our CEO; Mr. Dang Doan Kien - VP Investment of ITL Corp and leaders of departments and agencies of Tien Giang province, representatives of ITL Corp and the Association along with many students and teachers.
Due to the impact of aluminum in drinking water, many schools in Tien Giang province have faced difficulties in accessing safe drinking water sources, which causes negative impact on the health and development of students here
.
In this situation, ITL has accompanied the Association for the Support of Poor Patients in Ho Chi Minh City to sponsor 1.2 billion VND to install 20 water filtration systems in 20 schools, at the same time, ITL awarded 80 scholarships and cooperated with Tu Sach Nhan Ai to donate 120 bookcases to 6 schools in Cai Be district, with a total value of 320 million VND.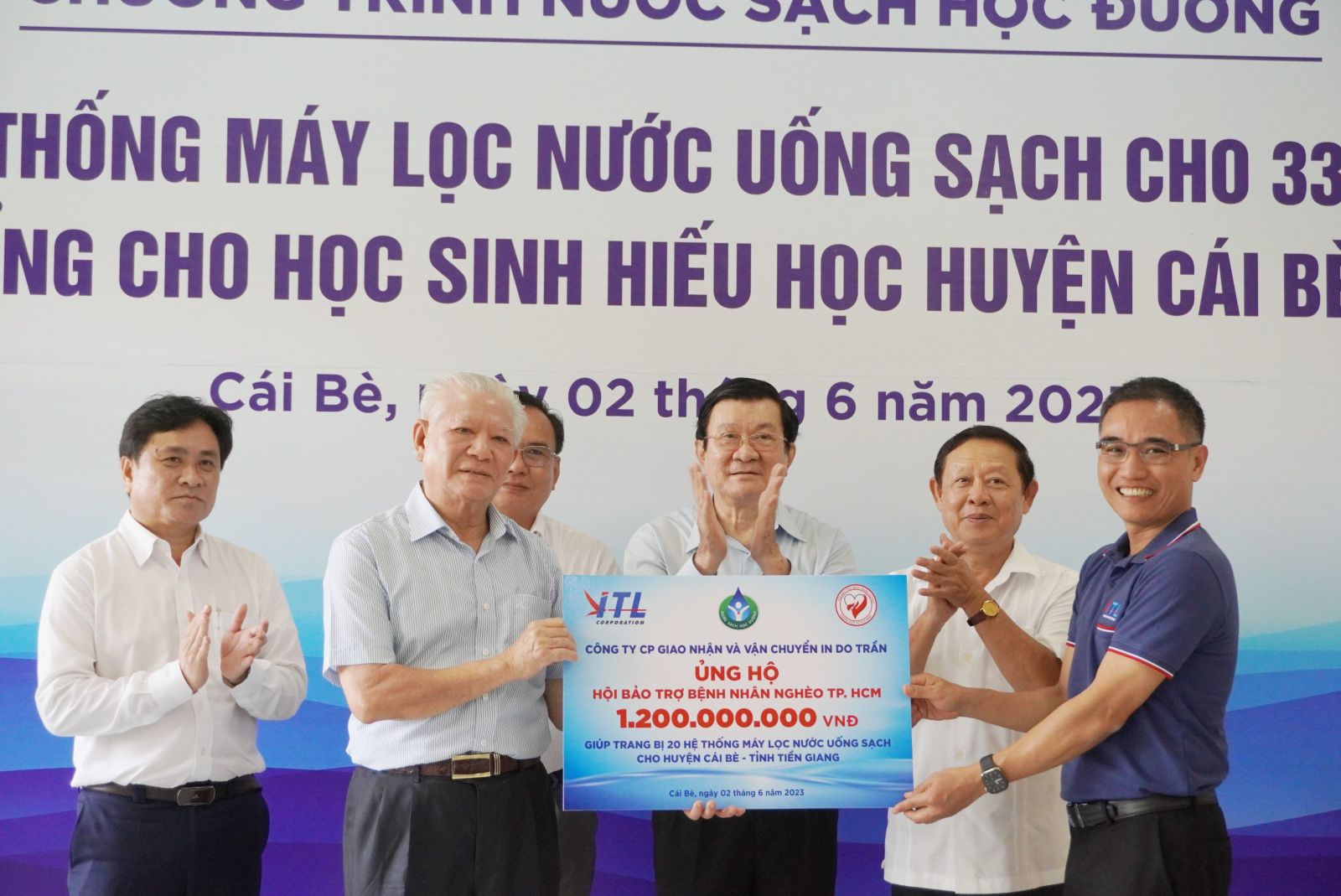 Mr. Ben Anh – our CEO highly appreciated the meaning of the program "Clean Water for Schools" for students the future generation of the country and expressed his thanks to the Association and partner organizations who have accompanied ITL in CSR activities in the past time.
He said: "
As a leading enterprise in Vietnam's transportation and Logistics industry, in addition to business activities, we always aim to bring good things to the community and society. For ITL, we always want to accompany the Association and localities in physical and mental health development activities. The "Clean Water for Schools" program has brought great meaning as it ensures both physical health and mental health for students"
.
He hoped that the joint efforts of businesses with the Association and localities will bring good results and create a resonance, thereby calling more funding sources to help the poor and the community.
Always raising social responsibility and aiming to sustainable growth goals, ITL Corp has implemented many meaningful programs for cases needing help in society, as well as helping and encouraging a learning spirit, developing the mindset of the young generation. Previously, ITL had accompanied the Association to organize programs such as free eye surgery for poor patients, heart surgery for children with congenital heart disease, support for orphans due to Covid 19 overcoming difficulties,… In the coming time, ITL will continue implementing many meaningful community programs to contribute to Vietnam's sustainable growth.
The program of "Clean Water for Schools" was initiated by Mr. Truong Tan Sang - Former President of Vietnam. This community program provides drinking water that meets national standards for students and teachers in remote areas. From 2017 until now, there have been
1305 water filtration
systems and 800 water tanks with a capacity of 3000l - 5000l installed at 461 schools, serving 199,973 students and teachers in many provinces nationwide.